Muckalee were drawn to play Railyard in the first round of a knock out championship. The game was played in Muckalee under lights. Muckalee started well scoring two points at the first water it was Railyard who were leading 4 points to 2. Two further points were added by the home side and at the break it was 6 points to 4 . Railyard dominated the third quarter scoring the only goal of the game. Muckalee scored 4 further points in the second half and competed well but is was not enough , railyard went on to win 1-12 to 0-8 and advance to the next round.
Team Stephen Murphy, David Walsh, Oliver Walsh, Shane Kinsella, Justin Manning, Robert Reid 0-1, Colm Kealy, Mick Morrissey, Brian Coady 0-4, Francis McShea 0-1, Robert Shore, Luke Maher, Sean Maher 0-1, James Maher 0-1, Donnacha Quinlan, Subs Patrick Nolan (used) Darragh Coughlan (used), Thomas Lalor (used), John Maher, Mark Coady, Tom Morrissey, Aidan Egan, James Carrigan, John Joe Kelly, Luke Burke, Conor Mulhall, Conor Mulhall
Selectors Alan Murphy, Thomas Kinsella, Peter Dukelow
Ref .Peter Burke
6/11/2021
January
300 Annette Stapleton, Ballyfoyle
150 Lucy Lawler, Ballyfoyle
100 Maura Rice, Coolraheen
50 Judy Somers, Cruttenclough
50 Eamonn Breen, Muckalee
50 Martina Manning, Rhue Lane
50 Miriam Quinlan, Cruttenclough
February
300 Ann Nolan, Knockalane
150 Tom Somers, Cruttenclough
100 Shem Kelly, Knockmajor
50 Mary Shore, Cruttenclough
50 Kathleen Tynan, Muckalee
50 David Walsh, Coolcullen
50 Helena Nolan, Knockmajor
March
300 Gerry Carrigan, Ruthstown
150 Luke Maher, Muckalee
100 Tom Dooley, Knockshanbally
50 Aidan Murphy, Clorinka
50 Patrick Healy, Cruttenclough
50 Richard Nolan, Knockmajor
50 Marie Dooley, Ballyfoyle
April
300 Aisling Hunt, Muckalee
150 Aisling Kelly, Brown Mountain
100 Michael Shortall
50 Gerald Comerford, Clorinka
50 John Mulhall, Knocknoo
50 Marie Butler, Corbettstown
50 Mary Brennan, Knockmajor
May
300 Joseph Shore, Coon
150 Brigid O'Keeffe, Coolcullen
100 John James Dowling, Park
50 Eilis Kelly
50 Jimmy Kelly, Cruttenclough
50 Sean Coady, Uskerty
50 Michael Brennan, Ballyfoyle
June
300 Vanessa Dooley, Gurtlug
150 Gerri Morrisssey, Julianstown
100 Ailis Tallis, Leapstown
50 Richard O'Shea, Damerstown
50 Aimee Feeney, Clorinka
50 Ollie Nolan, The Green, Ballyfoyle
50 Martin Dooley, Knockshanbally
July
300 Tom Lawler, Dunmore Park
150 Tom Murphy, Park
100 Aisling Shore
50 Brendan Healy, Cruttenclough
50 Martina Manning, Rhue Lane
50 John Flynn, Brown Mountain
50 Kadri Moore, Wildfield
August
300 Dick O'Shea, Damerstown
150 Martin Patterson
100 Robert Shore, Coon West
50 Mary Cody, Corbettstown
50 Conor Kinsella, Coon
50 Gerry Carrigan, Ruthstown
50 Patricia Maher, Muckalee
September
300 Treacy Kealy, Mothel
150 Paul Kinsella, Coon West
100 Ronan Shore, Coon West
50 Liam Dowling, Cruttenclough
50 Mary Doyle, Gurtlug
50 Ailis Kelly, Coon
50 John Mahony, Knockmajor
October
300 John James Dowling, Park
150 Seamus Ring, Damerstown
100 Ollie Stapleton, Ballyfoyle
50 Mrs Tom Morrissey, Clorinka,
50 Deirdre Maher, Damerstown
50 Marie Dooley, Ballyfoyle
50 Marian O'Donovan, Coon West
November
300 Sean O'Neill, Coon East
150 Patricia Buggy
100 Tom Shore, Cruttenclough
50 Kieran O'Brien, Coon
50 Gerald Comerford, Clorinka
50 Michael Quirke, Ballyfoyle
50 Marie Dowling, Cruttenclough
December
500 Rose Dowling, Cruttenclough
300 John Flynn, Brown Mountain
200 Paul Bolger, Drumherin
100 Mary Shore, Cruttenclough
100 James Kelly, Cruttenclough
50 Angela Ring, Damerstown
50 Richard Shortall
50 Jimmy Kelly, Cruttenclough
50 Kevin Cummins, Corbettstown
50 Noreen Kinsella, Coon West
50 Walter Tallis, Ballyfoyle
50 Thomas Kinsella, Coon West
St Martins GAA will be running a Summer GAA Camp from the 10th to the 15th of August. The attached application form has all the details of the camp.
On the 27th June, under the dwindling restrictions of the Covid-19 lockdown, a 24 hour virtual relay – Ronnie's Relay -is being hosted by St Martins GAA club in north Kilkenny.
In this event, men, women and children of the parish will be walking, running or cycling "virtually" between every GAA pitch in the county, and for the record, there are 42 of them over a distance of 426km.
A whole host of stars have endorsed this via a video campaign from across all walks of life including Brian Cody, Jim Bolger, DJ Carey, Henry Shefflin, Davy Fitzgerald, Marty Morrissey, Colm Bonnar, Lee Chin, Derek McGrath, Stephen Ward, Ken McGrath, Ian Dempsey, Mags D'Arcy, Edwina Keane, Jon Egan, Ursula Jacob, Martin Kavanagh, Richie Hogan and Seanie Maguire.
But they will not be alone, they will be joined by many othersaround the country who have come out to support the event. The hurlers, footballers and camogie players of Muckalee, Coon and Ballyfoyle will be joined by members An Garda Siochana and the Army, Lisdowney, Castlecomer, Conahy and Tullaroan hurling clubs, Deen Celtic soccer club, Kilkenny Triathlon club, the local cycling club and the Nore Dragon Paddlers, to name just a few
Ronnie's Relay is primarily being run in support of Veronica (Ronnie) Clancy, and is also in aid of two great charities, Jim Bolger's Hurling for Cancer and the fantastic Carlow Kilkenny Homecare team.
Ronnie, originally a Lisdowney woman, married Niall in 2003 and settled in Coon. There they are bringing up their young family, Emma, Hannah and Evan. Ronnie is a proud member of An Garda Siochana, based in Athy. The family are steeped in sport. Ronnie is a member of the Nore Dragon Paddlers and is a committee member with "Relay for Life", while Niall hurled with St Martins and is an active member of the club, serving as one of the many volunteers behind the scenes ensuring everything runs smoothly. All the children are involved at various levels within the club and Emma is also a keen basketballer with Kilkenny Stars.
While it all sounds picturesque, unfortunately it hasn't been an easy path for Ronnie. She was diagnosed with breast cancer in 2012 when Evan was just 10 days old. As a young mother, an aggressive treatment path followed of both Chemo and Radiotherapy. The recovery was long and not without complication, but she was determined to recover. While she never officially received the all clear she was able to take up numerous activities supporting cancer charities. Through Relay for Life she was not just able to support the various charities, but she also inspired Emma & Hannah in 2016 to have their beautiful long hair cut to donate to the Princess Trust Fund for children also struck with this terrible disease. In 2016 Ronnie was one of the founding members of the NoreDragon Paddlers, a group of dragon boat paddlers who comprise of breast cancer survivors. With them she has been fortunate enough to travel throughout Ireland & Europe to compete in various events.
The spectre of cancer however was never far away from Ronnie having lost both her mother Mary and sister Mary-Beth to it in recent years. In January this year during a routine check-up, Ronnie received the crushing news that her cancer had returned. Her old enemy was back and this time it hadinvaded her bones. Knowing the battle that is ahead, the Clancy family have buckled down. Despite the disruptions caused to treatment in these unusual Covid-19 times, their battle with cancer will be hard fought.
Hence this community of north Kilkenny are determined to help. They have enlisted the support of many through St Martins Patrick O'Flynn , Chairman of St Martins Bord na nOg proudly states "It's an honour for the club to facilitate this event for these great causes, especially in these challenging times".
Friends, colleagues, acquaintances, sport stars both local and national, have pledged their support for this young mother & the charities involved. You can too, at Ronnie's Relay gofundme page with €18.4k already raised. Be part of this story to support Ronnie and the broader cancer struggle through Hurling for Cancer and the Carlow Kilkenny Homecare team.
Details and regular updates can be found at St Martins hurling club facebook, twitter & Instagram pages and #ronniesrelay through Pado Flynn (083) 4631641 or Paddy Kealy (087) 276 0628
We are running a cancer fundraiser for Veronica Clancy and Family and in association with Jim Bolger's Hurling for Cancer charity and also the Carlow Kilkenny Home Care team who are specialist in palliative care in our local area. The format of the fundraiser will be a 24 hour virtual relay between all GAA club grounds in Co Kilkenny. We are planning to hold the event on Saturday June 27th and Sunday June 28th.  Participants will have the option of walking, running or cycling depending on the length of the leg of the relay.  All rules related to Covid 19 will be adhered to as part of the event.  If you wish to partake in the event please contact Paddy Kealy on 087-2760628 or for general queries contact Patrick O'Flynn on 083-4631641.  Thanks very much for your contribution. Donations can be made on Ronnie's Relay Go Fund Me page.
St Martins GAA  & Muckalee GFC Membership Breakfast / Brunch Morning:  the clubs are holding a membership registration morning on Saturday February 8thfrom 10:30 to 14:00 in Muckalee Community Centre.  If you come along and sign up your 2020 membership on the day you will get a free breakfast.  The General Election is on the same day, so people will have the opportunity to vote and then call over to the breakfast / brunch morning to pay their GAA registration.  Juvenile membership registration will also be taken as part of the breakfast morning.  There will also be an opportunity to make a voluntary donation to the primary schools teams.
The club are running a race night on Friday Oct 18th in the Cave Bar at 21:00.  Please support as the proceeds go towards our players and team championship preparations and the running of our facilities.  Lifts home will be provided free of charge.  Race cards are now available from committee members and players.  Anyone interested in sponsoring a race can contact any member of the committee.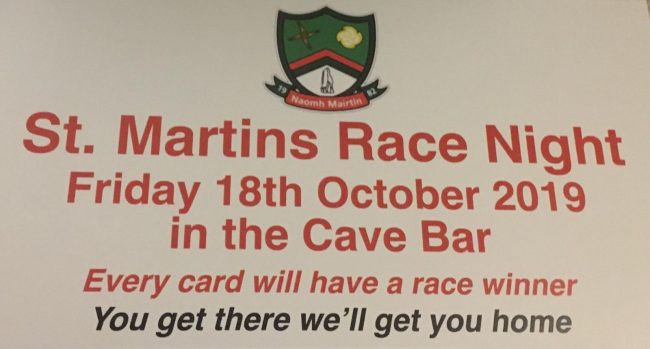 A dramatic final weekend of provincial action saw Wexford and Limerick take the spoils to bring us all the way back to the summer of '96. Davy completing the full set of titles for his own personal collection and Limerick annexing all three major titles at the one time for the first time since 1936. Tom Murphy (€1000) and Helen Corcoran (€400) were joint top of the predictions with 180 points with Tom closer in his prediction for the top scorers winning out. Seamus Callanan and TJ Reid taking the top scorer from play awards after scintillating provincial campaigns. The Father and Son duo of Paddy and Tomás Morrissey could not be separated in the battle for third and share the All Ireland tickets of their choosing later in the year as both were within five of the correct score. Congratulations to the winners and sincere thanks to all those who took part and bought forecast cards for 2019.
Excel InterCountyBounty 2019 St Martins
Leaflets were delivered out through the schools but a couple of people were either out sick or not in school on those dates. Attached is the application form for all those who have not registered to date. I will be away for a time in July if you want to contact me do so through watsapp.
The camp takes place from the 12th to the 16th of August. On Tuesday the 13th the Cul Heros Team will be at the camp with prizes and special offers which can be seen below for those in attendance.
Regards,
John
Camp leaflet 2 (dragged) 2 Comic ad ST MARTINS GAA SUMMER CAMP 2019
Joe Dowling never fear the Inter County Bounty results are here!! After a dramatic conclusion to the Leinster championship with Kilkenny and Wexford emerging as Leinster finalists alongside Dublin who dramatically knocked out 2017 All Ireland champions Galway. Munster will see Tipperary and Limerick face off after emerging from Munster with Cork. TJ Reid and Seamus Callanan are atop the scoring lists from play and it will take a major scoring surge to knock them from the top spots. Its all to play for at the top of the leaderboard going into the Leinster and Munster finals which will be played next weekend.
Excel InterCountyBounty 2019 St Martins