St Martins GAA  & Muckalee GFC Membership Breakfast / Brunch Morning:  the clubs are holding a membership registration morning on Saturday February 8thfrom 10:30 to 14:00 in Muckalee Community Centre.  If you come along and sign up your 2020 membership on the day you will get a free breakfast.  The General Election is on the same day, so people will have the opportunity to vote and then call over to the breakfast / brunch morning to pay their GAA registration.  Juvenile membership registration will also be taken as part of the breakfast morning.  There will also be an opportunity to make a voluntary donation to the primary schools teams.
The club are running a race night on Friday Oct 18th in the Cave Bar at 21:00.  Please support as the proceeds go towards our players and team championship preparations and the running of our facilities.  Lifts home will be provided free of charge.  Race cards are now available from committee members and players.  Anyone interested in sponsoring a race can contact any member of the committee.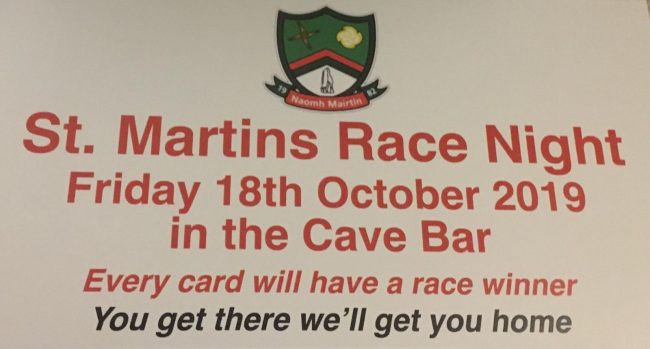 A dramatic final weekend of provincial action saw Wexford and Limerick take the spoils to bring us all the way back to the summer of '96. Davy completing the full set of titles for his own personal collection and Limerick annexing all three major titles at the one time for the first time since 1936. Tom Murphy (€1000) and Helen Corcoran (€400) were joint top of the predictions with 180 points with Tom closer in his prediction for the top scorers winning out. Seamus Callanan and TJ Reid taking the top scorer from play awards after scintillating provincial campaigns. The Father and Son duo of Paddy and Tomás Morrissey could not be separated in the battle for third and share the All Ireland tickets of their choosing later in the year as both were within five of the correct score. Congratulations to the winners and sincere thanks to all those who took part and bought forecast cards for 2019.
Excel InterCountyBounty 2019 St Martins
Leaflets were delivered out through the schools but a couple of people were either out sick or not in school on those dates. Attached is the application form for all those who have not registered to date. I will be away for a time in July if you want to contact me do so through watsapp.
The camp takes place from the 12th to the 16th of August. On Tuesday the 13th the Cul Heros Team will be at the camp with prizes and special offers which can be seen below for those in attendance.
Regards,
John
Camp leaflet 2 (dragged) 2 Comic ad ST MARTINS GAA SUMMER CAMP 2019
Joe Dowling never fear the Inter County Bounty results are here!! After a dramatic conclusion to the Leinster championship with Kilkenny and Wexford emerging as Leinster finalists alongside Dublin who dramatically knocked out 2017 All Ireland champions Galway. Munster will see Tipperary and Limerick face off after emerging from Munster with Cork. TJ Reid and Seamus Callanan are atop the scoring lists from play and it will take a major scoring surge to knock them from the top spots. Its all to play for at the top of the leaderboard going into the Leinster and Munster finals which will be played next weekend.
Excel InterCountyBounty 2019 St Martins
Welcome back to the St Martins 2019 ICB and after the deplorable hurling we have seen in Munster to date and with Tipperary going so well lets not panic and see what the weekend has in store. Two Carlow men lead the scoring charts from play in Leinster Chris Nolan and James Doyle while in Munster its a 123 for Tipp with Callanan and John McGrath tied at the top. Indeed, Tipp have seven of the top ten scorers from play. All scores and scorers are within the attached Excel.
Excel InterCountyBounty 2019 St Martins
Club membership is now due for 2019.  Membership can be given to your regular club membership collector or to any hurling or football club officer.  Membership can be paid in full or on a monthly basis by setting up a standing order using on-line banking.  Membership monies received are used to help cover the running costs of both clubs i.e. Team registration and levies, Hurleys/balls, Medical costs, Insurance, Facilities maintenance, Lights, etc.  Thank you for your continued support of St Martins GAA Club and Muckalee GFC.
After another epic clash Galway emerged as Leinster champions with a massive statement of intent towards regaining the All Ireland they won last year. Conor Whelans 2-12 from play was enough to give him the top scorer from play in Leinster trailed by four other Galway men scoring their scoring strength. It also saw the emergence of the first three positions in the 2018 Inter County Bounty. In first place with a magnificent total of 190 is  Thomas Hiney of Abbeyleix and his prize a total of €1000. Second place (185) saw long time leader Nicky Siney of Ballinakill collect €400. While third place saw John Cahill (180) take home the prize of two All Ireland tickets and accommodation in Dublin for either the Hurling or Football All Irelands.  Huge congratulations to the winners and a massive thank you to all those who collected cards earlier in the year and to all those who took part it is much appreciated.
Top Scorers (Leinster)
| | |
| --- | --- |
| Conor Whelan (GAL) | 2.12 |
| Joseph Cooney (GAL) | 1.11 |
| Conor Cooney (GAL) | 0.14 |
| Cathal Mannion (GAL) | 0.13 |
| Joe Canning (GAL) | 0.12 |
Top Scorers (Munster)
| | |
| --- | --- |
| Seamus Harnedy (CO) | 3.14 |
| John Conlon (CL) | 1.19 |
| Tony Kelly (CL) | 1.15 |
| Patrick Horgan (CO) | 1.15 |
| Tommy Ryan (WAT) | 3.05 |
Excel InterCountyBounty 2018 St Martins
The wait for the first winner of  the ICB will go on for another week after Kilkenny and Galway drew in an absorbing final in Leinster. Cork took the spoils in Munster with Seamus Harnedy pipping John Conlon to the top scorers prize with 3.14 (23) scored.
Excel InterCountyBounty 2018 St Martins
A guard of honour will take place for Fr. Martin Ryan from the school at 8.30 on Tuesday evening. All clubs from parish are invited to attend and are asked to wear colours.