St Martins Under 12 contested the finals of the Jim Comerford tournament in Conahy recently. Earlier round victories over Mullinavat, Conahy and Lisdowney insured a semi-final against great rivals O Loughlins.  After a hard fought and high quality game the City team and eventual winners, emerged victorious.  While disappointed the whole panel gained invaluable experience playing at this level and will no doubt stand to them in the future.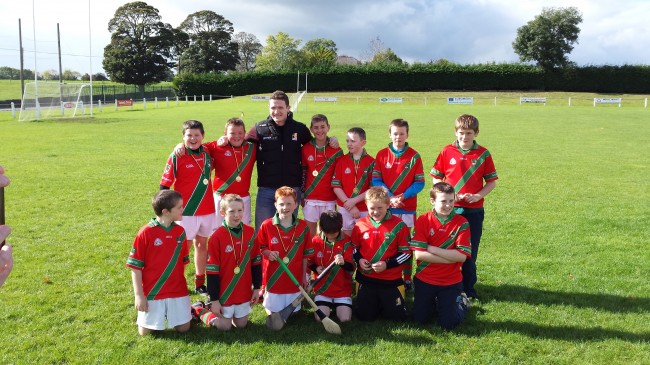 St. Martins Under 12 brought down the curtain on a very busy year with a three game blitz in Danesfort last Saturday. Three games V Dicksboro, Young Irelands and Glenmore provided a large attendance with a great mornings hurling.  All panel members gave their all and an outstanding attitude allied with some great performances insured the year ended on a bright note.  Great credit to the players who provided great entertainment not only last Saturday but throughout the whole year.  Well done lads.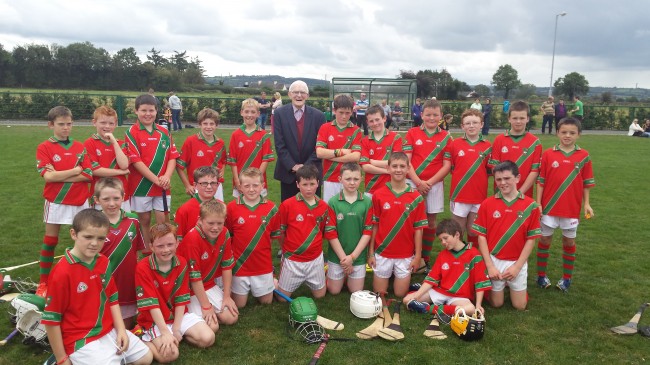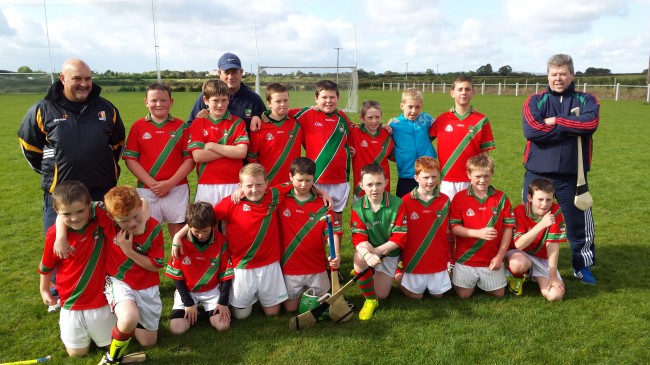 Panel: Matthew Shortall, Shane Fahey, Josh Dempsey, Sean Farrell, Thomas Lawlor, Jack Farrell, Luke Burke, Joseph Reid, Cillian Byran, Shane O Neill, Lorcan Agar, Tristan Roche, Bill Dowling, Patrick Brennan, Russell Kealy, Kyle Walshe, Aaron Meaney, Aidan Kelly, Oisin Kelly, Conor Egan, Rory Buggy, Tommy Flynn and Mick Brennan.
CUPS
Thanks to Sean Kelly for bringing the All-Ireland and Leinster Minor trophies to training in Muckalee last Thursday evening. Great excitement ensued with all the lads getting a chance to see the trophies and get photos taken.
St. Martins Under 12 panel completed their go-games fixtures in Erins Own (Castlecomer) last Saturday with two excellent displays against the home team and St.Patricks (Ballyragget).  With a great turnout of 26 players including 4 Under 10's we fielded two teams and after two absorbing clashes emerged victorious in both games.  Great credit to the players who showed great qualities of skill, determination and teamwork not only today but all through the year.  A big thank-you to all the parents for all their efforts and a mention must go to Tom Shore who repairs the lads hurls and who does such a great job on them.  The lads were presented with medals by fellow clubman Sean Kelly to round off a great mornings hurling.
Panel: Thomas Lawlor, Jack Farrell, Sean Farrell, Josh Dempsey, Tristan Roche, Shane Fahey, Shane O Neill, Bill Dowling, Matthew Shortall, Mick Brennan, Joseph Reid, Oisin Kelly, Aidan Kelly, Rory Buggy, Aaron Meaney, Kyle Walshe, Lorcan Agar, Conor Egan, Luke Burke, Russell Kealy, Tommy Flynn, Patrick Brennan, Cillian Byran, Conor Dooley, Cathal Keagan, Killian Dowling and Tadhg Gill.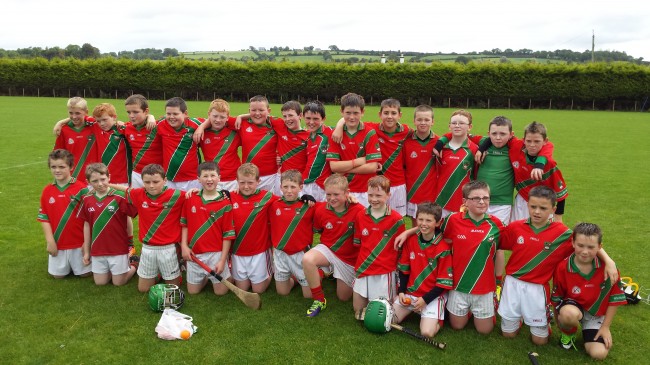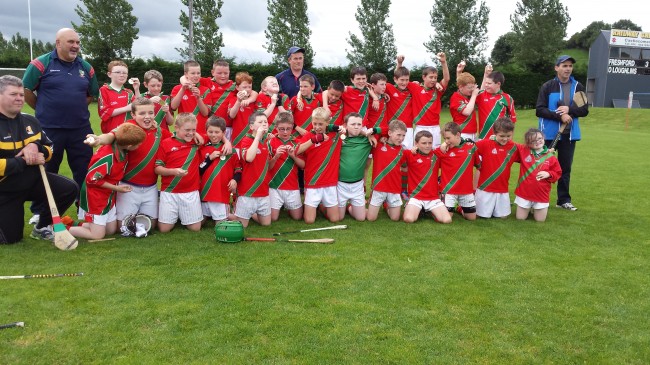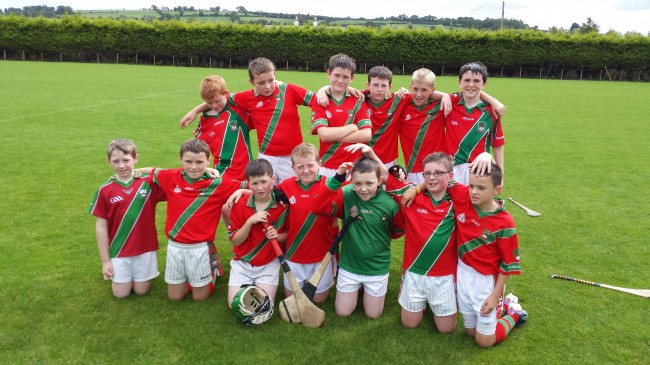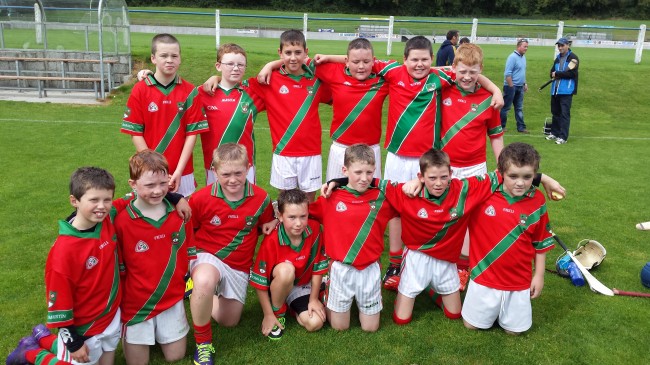 St. Martins U12's continued their busy schedule when hosting Bennettsbridge in the Dowling family Cup last Sunday morning.  In ideal conditions both teams served up an outstanding show full of all the best that this great game has to offer.  There have been many great games between the two sides over the last few years and this latest instalment didnt disappoint.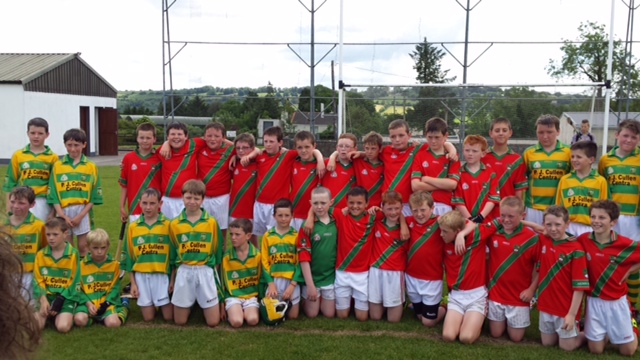 After a good start with two early points St. Martins got on top and added some great scores. Bennettsbridge battled back bravely and to their credit got some great scores of their own. After an action packed second half with the action swinging from end to end our lads held out for a well deserved victory and a delighted captain Bill Dowling and vice captain Conor Egan received the Dowling Cup from his Grandfather Tom.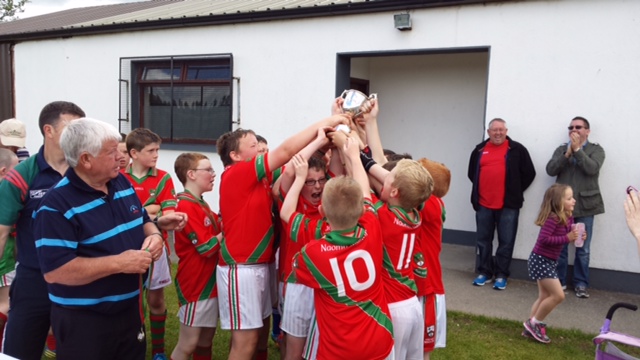 Refreshments kindly sponsored by the Dowling family were then served and enjoyed by all.  The many visitors were also highly impressed with the new car parking facilities and of course the pitch which was as usual in perfect condition.
Special thanks to all who helped out to make the day a great sucess, also to the lads parents who make the effort to get the lads to training and matches, indeed large attendances have been a feature of the year so far and of course to all the panel who have worked very hard all year and victory in The Dowling Cup was just reward for all their effort.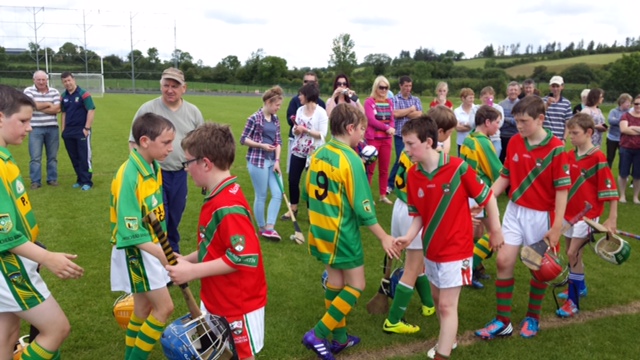 PANEL:
Jack Farrell, Sean Farrell, Conor Egan, Kyle Walsh, Aaron Meany, Rory Buggy, Bill Dowling, Matthew Shortall, Josh Dempsey, Tristan Roche, Shane Fahey, Shane O Neill, Russell Kealy, Luke Burke, Cillian Byran, Lorcan Agar, Tommy Flynn, Patrick Brennan, Aidan kelly, Josepy Reid, Thomas Lawlor, Oisin Kelly and Mick Brenann.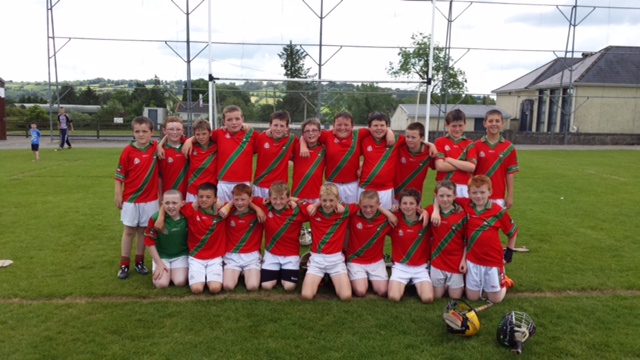 Ballinamere from Offaly were welcome visitors to well appointed Coon last Saturday.  The heavy showers failed to dampen spirits and the large attendance were treated to a fine display from start to finish,  indeed Michael Duignan former Offaly hurler and Sunday game analyst was very impressed with the ability of both panals.  Thanks to Ronan Ruane for organising the game and to all who helped on the day.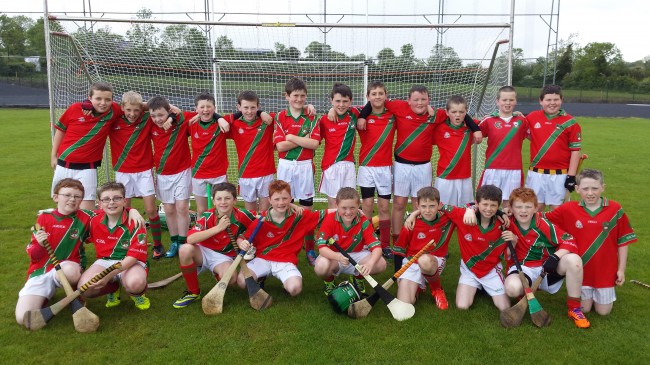 PANEL: Jack Farrell, Sean Farrell, Thomas Lawlor, Tristan Roche, Tommy Flynn, Matthew Shortall, Joseph Reid, Rory Buggy, Conor Egan, Josh Dempsey, Shane Fahey, Shane O Neill, Oisin Kelly, Aidan Kelly, Russel Kealy, Cilian Byran, Patrick Brennan, Bill Dowling, Luke Burke, Kyle Walsh, Lorcan Agar, Aaron Meany, Michael Brennan.
Under 10s and 12s travelled to Maynooth on Saturday 15th march for challenge matches. On a beautiful day we were treated to two great games and the kildare boys showed that the future for hurling looks bright for the lilywhites. Our lads gave a good display for games early in the season . Our hosts looked after us very well and fed us before we headed to Dublin for kilkenny's league encounter in parnell park , a great day was had by all . Thanks to Noel Shorthall for organising the trip and all the coach's and parents for helping things run smoothly.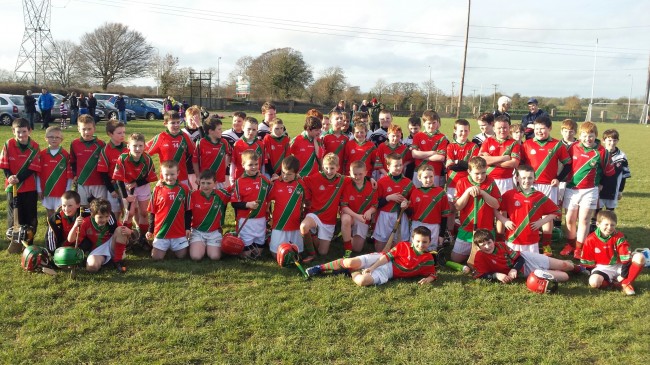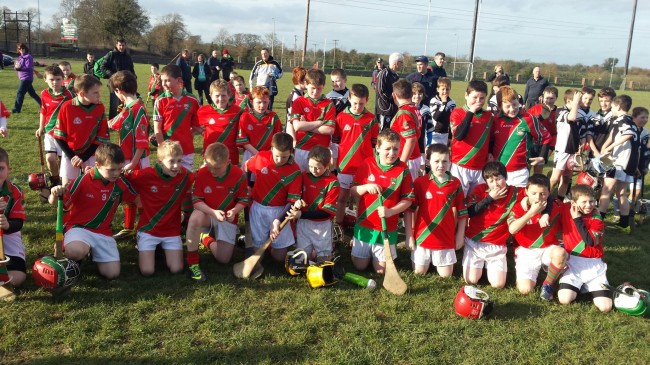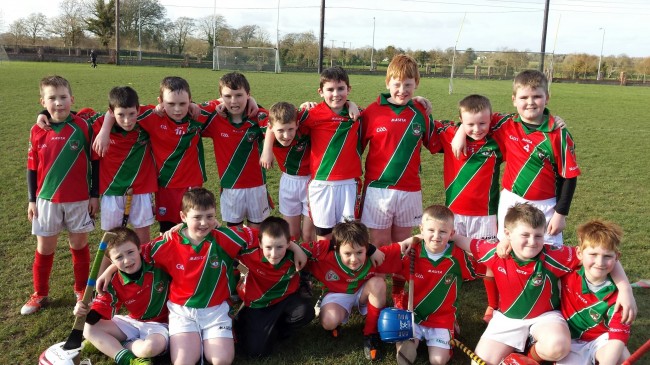 The U12s had a great night out at the Ireland V Australia compromise rules in Croke Park.  One of the crew was certainly getting into the spirit of things with his Luminous green wig ! While the match wasn't very competitive the lads got a great kick out of cheering all the Irish scores and waving their green flags that were provided by the series sponsor.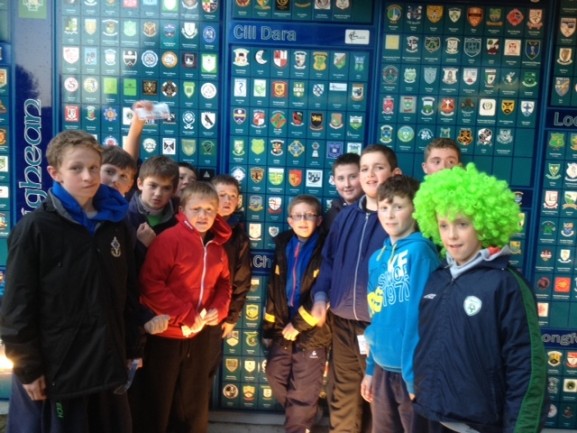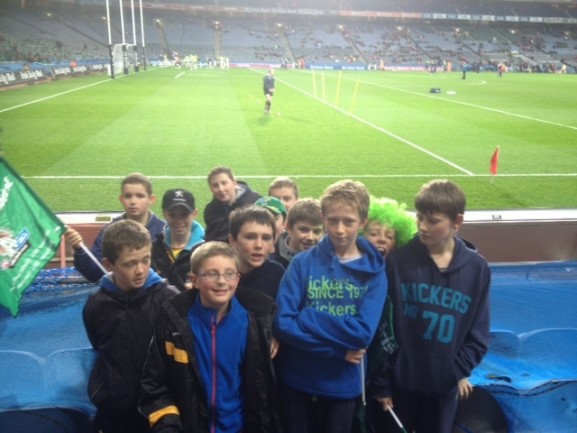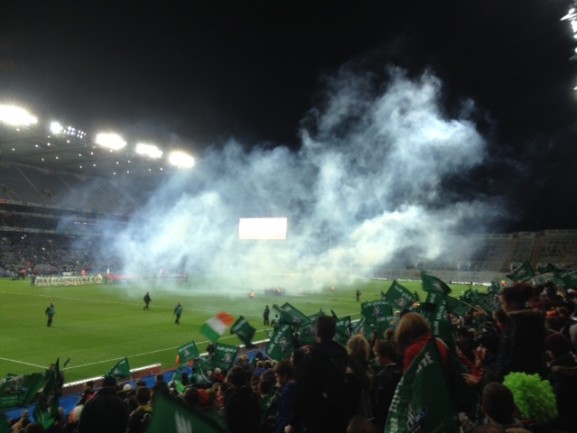 On  Sunday St Martins under 12s attended a hurling blitz in Paulstown The boys played 3 games and lost in the final to a last minute goal to Bunclody.
Team : Mathew Shortall, Josh Dempsey, Conor Mulhall, Jack Farrell, Shane O'Neill Adam Agar, Justin Manning, Harry Kealy, Daniel Doyle, Paul Murphy, Shane Brennan, Jack Murphy, Joe Reid, Andrew Buggy, James Dowling, James Carrigan, Donal Coughlan and Darragh Coughlan
Team Selectors: Sean O'Neill Noel Shortall and Donal Coughlan.
Danesfort were the visitors for the 2013 Dowling Cup held on Saturday evening in Coon. The players and large crowd got lucky with the weather as it remained dry for the start of the match as Mikey Somers threw in the ball. Danesfort got off to the better start as a long range effort snuck in to the St Martins net. The young Coon-Muckalee-Ballyfoyle lads did not let this deter them and they got back in to the game when Dan Doyle's bullet like ground shot from an extremely tight angle hit the back of the net. Two pointed frees from Daragh Quinlan, a point from play by Bill Dowling and another goal from Donal Coughlan saw St Martins go in at half time in front on a scoreline of 2-3 to 1-2 after a very evenly contested half. Shane Brennan made three excellent saves and got great support from the full back line of Paul Murphy, Adam Agar and Mathew Shorthall to keep Danesfort's scores to a minimum.
The first score of the second half was going to be crucial and  when Shane Fahy finished the ball to the net in a goalmouth scramble, the host team were on the way to victory. St Martins were becoming dominant in their halfback line with Justin Manning, Tristan Roche and  Darragh Coughlan clearing ball after ball. Their teamwork was evident when the ball was fed to Daragh Quinlan midway through the second half who sprinted clear of the Danesfort defense only to see his shot canon back off the crossbar.
Harry Kealy, James Dowling and Jack Murphy all worked hard through the match to make sure that St Martins remained on top. Daragh Quinlan made up for his misfortune earlier with two goals, one from play and one from a 21 yard free. The scoring was complete with points from Harry Kealy and Ronan Shore and a goal from Josh Dempsey. The full panel got a run out and it was great to see Tommy Butler, Joe Reid, Andrew Buggy, Jack Farrell, Conor Mulhall, Shane O Neill, Thomas Lawlor, Cillian Bryan, Lorcan Agar and Willem Smith contribute to the victory. The final score was St Martins 6-5 Danesfort 1-4
After the match Liam Dowling presented medals to both teams and Tom Dowling presented the Dowling Cup to his grandsons, captain Daragh Quinlan and vice captain Bill Dowling. Everybody then enjoyed tea and refreshments in the dressing room to finish off a great day. 
Great credit must go to the Coon field committee who had the pitch and grounds in fantastic condition for the game.
St Martins Under 12s were invited to Callan on Sunday for a hurling Blitz.
They played 2 games against Tullaroan and Dunamaggin.
Team Shane Brennan, Adam Agar, Lorcan Agar, Dara Quinlan, Ronan Shore, Jack Farrell, Joseph Reid, James Dowling, Paul Murphy, Daniel Doyle, Donal Coughlan, Tristan Roache, Shane Fahey, Tommy Butler, Darragh Coughlan, Justin Manning and Harry Kealy.
   The Dowling Cup is on in Coan this Saturday evening at 6.00pm
St Martins Under 12s vs Danesfort.
On a fine evening in Muckalee on 13th August St Martins red ream played O'Loughlins in the next round of the go games. O'loughlins got off to a flying start and caught St Martins cold. a goal and 3 points by their full forward had Martins reeling. Slowly St martins got back into the game and won a free close to the goal which was saved at the first attempt but the rebound was finished to the net by Justin Manning. Some fine points cut the deficit coming up to the break. But the young saints suffered a another major set back just before half time when a high ball lobbed in ended up in the net. Again O'loughlins started the second half brightly and got in for another goal. But that score sparked St Martins into life and they stormed into the game after this with goals from Tommy Butler and Donal Coughlan and fine points from Harry Kealy, Shane Fahey,Conor Mulhall, James Carrigan and Tommy Lawlor. A late free gave up a minor score to O'loughlins.
Thanks to Conor Fahey for refereeing the match
Team: Conor Mulhall, Tommy Butler, Mathew Shortall, Darragh Coughlan, Justin Manning, Harry Kealy, Donal Coughlan, Joseph Reid, Tommy Lawlor, James Carrigan, Shane Fahey and Shane O'Neill