Under 10s and 12s travelled to Maynooth on Saturday 15th march for challenge matches. On a beautiful day we were treated to two great games and the kildare boys showed that the future for hurling looks bright for the lilywhites. Our lads gave a good display for games early in the season . Our hosts looked after us very well and fed us before we headed to Dublin for kilkenny's league encounter in parnell park , a great day was had by all . Thanks to Noel Shorthall for organising the trip and all the coach's and parents for helping things run smoothly.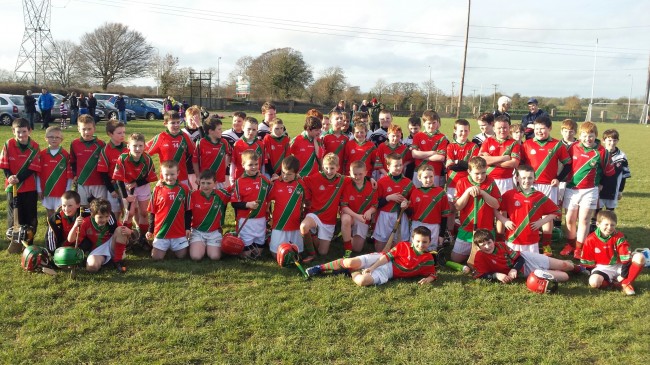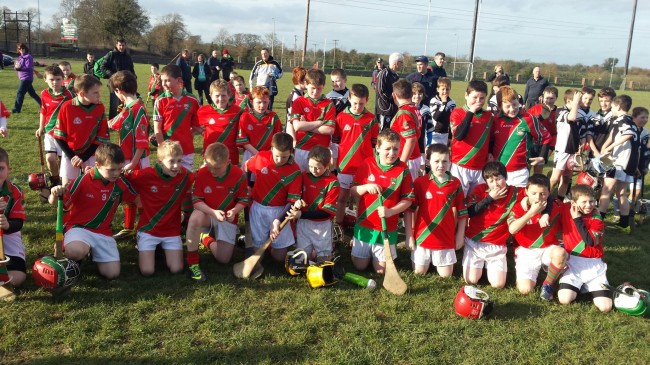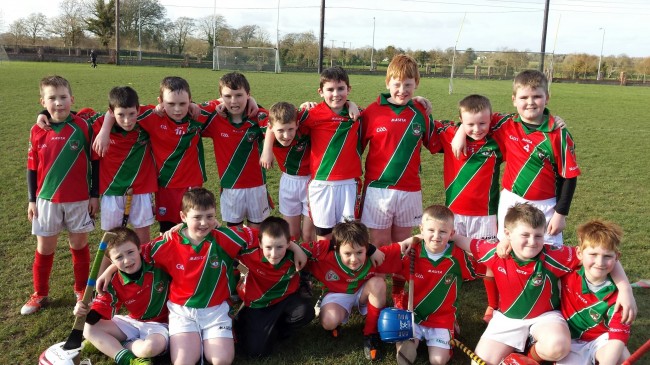 The annual Fr. Delaney cup and Mick Sommers Shield took place in Coon on Saturday 29th June last.
Four teams took up the challenge in the end with The Village playing St. Martins and Ballyragget playing Cloneen. After two great games it was the Village facing Ballyragget in the final with the Village taking home the Fr. Delaney cup but St. Martins finished strong against Cloneen to win the Mick Sommers Shield.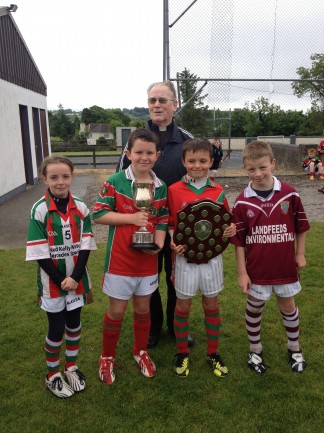 Well done to all.
St Martins Under 10's were kindly invited to O Loughlins blitz on Saturday last 6th October.  We were in the A competition and the lads competed very well with Kilmacud Crokes, O Donavan Rossa, Jas Stephens and Craobh Ciaran.  It was a great expierence for the boys to play teams from other counties especially O Donavan Rossa from Aintrim who left at 6am to make the Blitz.  Thanks to Nigel Leydon for his kind invitation and to all the parents and especially to all the boys who represented the club proudly once again.
Panel: Russel Kealy, Jack Farrell, Matthew Shortall, Tommy Flynn, Thomas Lawlor, Tristan Roche, Shane Fahy, Joseph Reid, Lorcan Agar, Henry Houston, Bill Dowling, Josh Dempsey,Oisin Kelly, Shane O Neill.
Last Saturday 22nd September our under 10 hurling panel travelled to Gowran where they competed in the Young Irelands under10 tournament.The boys had three games in which they won two. The first against Bennetsbridge which was a thrilling match to watch. The second match was against Graig-Ballycallan. The boys fought very hard in this game coming out the victors at the final whistle. Our last game was against our Hosts Young Irelands. The boys were starting to tire in this game but they put up a commanding performance which resulted in a draw upon the final whistle.The boys had three super games that day doing the club proud.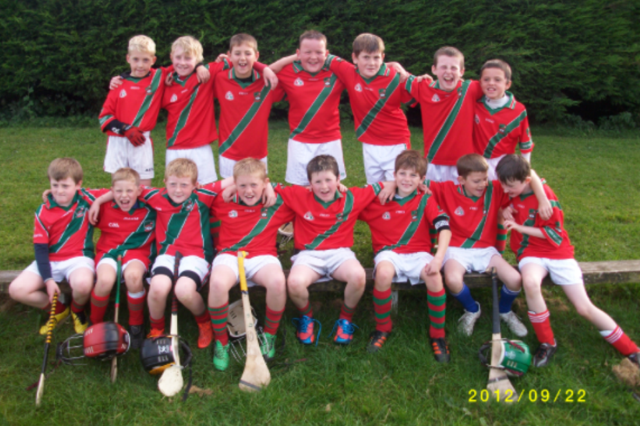 The St Martins U10 Hurling Panel were out in force last Saturday in Conahy, as they competed in the Kevin Bergin Memorial Hurling Tournament.We were in a very competitive group of Conahy – Galmoy – Cloneen.After three hard games we topped our group to make it to the finals against O Loughlin Geals.After a hard fought and high quality final, the Boys were most unfortunate not to come out on top. Great credit to the boys for a wonderful mornings hurling.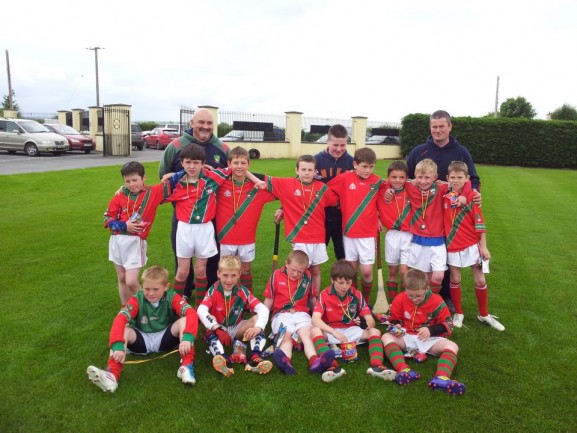 The Panel was: Shane Fahey,Mathew Shortall,Joseph Reid,Josh Dempsey,Bill Dowling,Thomas Lawlor,Russell Kealy,Oisin Kelly,Jack Farrell,Shane O Neill,Arron O Dea,Tristan Roache,Cillian Shanahan,Lorcan Agars.
All roads lead to Coon next Saturday for the Michael Summers Memorial U10 Hurling Tournament 2012.
St Martins Juvenile Registration night will take place  in Muckalee Community Centre on Wednesday  1st Feb from 7pm to 8pm for age groups under 6, 8, 10, 12 and 14.
The U9 and U10 panels got together for a training session under the floodlights last Tuesday evening to finish out their 2011 campaign.
The lads enjoyed a great year with approx 50 training sessions and 20 matches played throughout the season for each age group.
 
Guest of honour on the night, U14 winning captain Robert Reid spoke to the players beforehand with words of advice and encouragement for next year.
 
Afterwards, all players enjoyed drinks, crisps and sweets while watching the seniors prepare for the county semi final this weekend.
 
All U9 and U10 selectors would like to thank Patsy Murphy and Tom Dowling for facilitating the use of the pitches in Muckalee and Coon throughout the year.
 
Under 10s retain the Father Delaney Cup.
St Martins Under 10s retained the Father Delaney cup when they defeated Portlaoise at a wet and windy Coon on Wednesday evening. Ignoring the difficult conditions, both teams battled hard in a close first half, but goals from Ronan Shore and Daragh Quinlan ensured that the home side were ahead at the break. As the match progressed some great defending by Adam Agar, Paul Murphy, Daragh Coughlan and Justin Manning meant that Portlaoise found it difficult to translate their possession into scores. Midfield battles were tough but fair, where Harry Kealy, Donal Coughlan and James Carrigan fought hard for possession. Goals from Daniel Doyle and Conor Mulhall in the second half ensured that St Martins ran out comfortable winners in the end. Although Conor was delighted to score his first goals for St Martins, we can confirm that he didn't burst into song like his older brother DJ John ! Andrew Buggy and James Dowling put in some strong tackles in the forward line, preventing Portlaoise from getting back into the match. When Portlaoise did get some shots on target, second half goalkeeper Shane Brennan made some great saves. Injured team mate Jack Murphy roared encouragement from the sidelines all the way through the match, and but for having to hold himself up on his crutches he would have joined in in the match ! The club would like to thank John Ryan for refereeing the match to great effect which resulted in a good flowing match with no indiscipline from any players.
 After the match Father Delaney presented the Cup to the captain for the day James Daniel. He congratulated all players from both sides for braving the elements and providing great entertainment for all those present. Bord na nOg chairman, Patrick O' Flynn then presented both sets of players with their medals and they all enjoyed some light refreshments.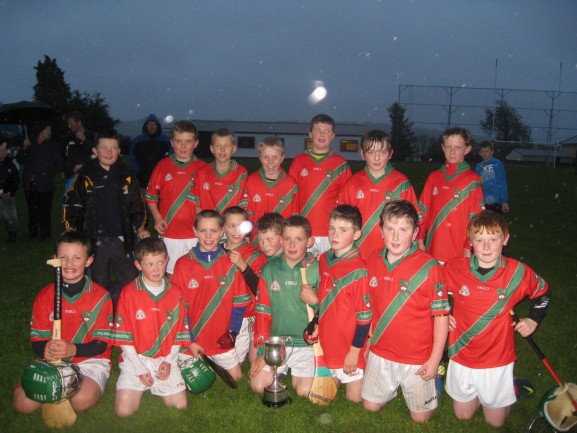 St. Martins team who won Fr. Delaney Cup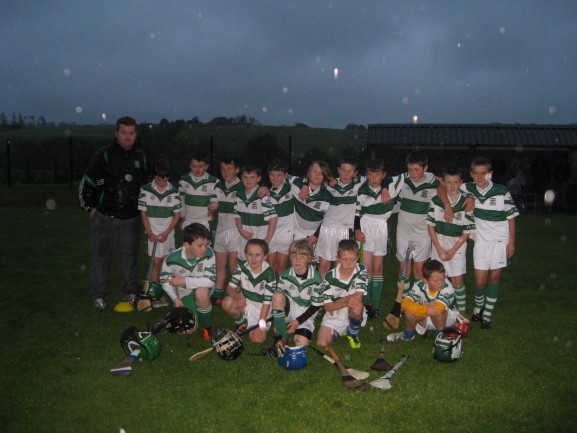 Portaloise u10 panel
St Martins U10s played in a Hurling blitz in Portlaoise on Saturday June 18th.  They played Ballyfin and John Locks first and then went on to meet Portlaoise in the shield final which they won.  A enjoyable day was had by everyone.
Panel of Players. Darragh Coughlan, Joseph Reid, Tristin Roche, Donal Coughlan, Russell Kealy, Shane Fahy, Cillian Shanahan, Shane O'Neill, Thomas Lawlor, Mathew Shortall, Jack Farrell, Henry Huston, Bill Dowling, Adam Agar, Josh Dempsey, and Cillian Bryan.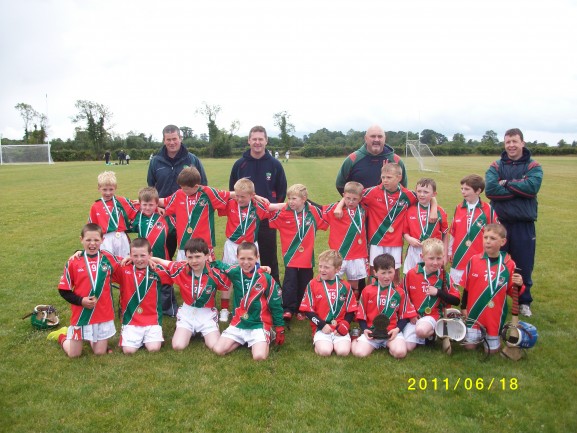 4/6/11
St Martins Under 10s played their final go game in Nowlan park on Saturday.  A great day was had by all and the players all enjoyed the expierence.
Panel of players:
Adam Agar, Daragh Quinlan, Ronan Shore, Jack McCormack, Jack Murphy, Paul Murphy, Daniel Doyle, Shane Brennan, Harry Kealy, Mathew Shortal, Josh Dempsey, James Carrigan, Donal Coughlan, Bill Dowling, Darragh Coughlan, Tristin Roache, Andrew Buggy, James Daniels, James Dowling and Justin Manning.