St Martins GAA will run a summer camp for boy and girls aged 6-13 with Hurling, Camogie and Gaelic Football from the 13th to the 17th of August. Camp runs from 10am to 2.30pm.
One child €50
Two sibling €75
Three siblings €100
Leaflets will be distributed in Muckalee and Coon National schools from Monday the 28th of May.
Any queries contact John Mulhall on 0872722181
Thanks to all those who supported the first Inter-County Bounty. The excel contains the scores of all participants to date alongside their top scorers.
Also outlined are the full scorers from play in both the Leinster and Munster Championships.
Joe Bergin currently leads in Leinster with a four way tie the case in Munster.
Excel InterCountyBounty 2018 St Martins
The Club would like to thank everyone for their continued support and wish everyone a Happy Christmas and New Year.
Check your scratch cards
the first goal was scored at 51.45
If you have the winning time please contact Breda 0879558578
Thanks to everyone who sold cards and to everyone who supported this fundraiser.
The Code of Best Practice in Youth Sport has been designed and adopted for the benefit of all who are involved in our games and in other activities promoted at all levels of the Association. The purpose of this Code is to provide realistic and achievable guidance for all units of G.A.A. & Camogie in their work with children and young people. This is a mandatory training or all people involved in youth sport.
Who Should Attend: All mentors of Juvenile Players & Juvenile Committee Members in GAA and Camogie.
To book a place please contact,
Caroline Clifford (GAA) childrenofficer.kilkenny@gaa.ie
& Lillian Holohan (Camogie) childrensofficer.kilkenny@camogie.ie
St Martins Hurling club AGM will take place on Friday 27th of January in Coon Hall at 8 o clock.  Nomination papers are available in the three churches and must be returned to the secretary before Friday 2oth.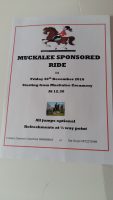 St Martin's / Muckalee members draw for Christmas will take place on Friday 16th in the Cave bar.  Thanks to everyone for their continued support of the clubs.   Wishing everyone a HAPPY CHRISTMAS and NEW YEAR.
Work has commenced on the new club-rooms in Muckalee. The committee are currently endeavouring to call to every house in the Parish, promoting the "Buy a Brick" campaign, which has been well received to date with over 300 bricks sold.  The club is extremely grateful to all those who have supported this fundraiser and to the small, dedicated number of promoters.  If our promoters missed you when they called and you wish to buy a brick, please contact Breda on 0879558578 (tynanbreda@eircom.net), Patsy on 0878256035 (patj.murphy@hse.ie) or Richard on 0876413713 (richard.nolan13@yahoo.ie). In addition to our "Buy a Brick" campaign the club is offering local businesses and companies the opportunity to include their company branding on a dedicated billboard to be installed at a prominent location on site, the closing date for those interested in availing of this opportunity is the 31st December 2016.  To date, nearly 30 businesses have availed of this package for which we are extremely grateful.  You can keep up to date with the development through the St. Martin's/Muckalee GAA website; just click on the photo's/New Development and "Buy a Brick" links for the latest news and progress.
Muckalee & St Martins club collectors will be calling to all houses promoting the buy a brick campaign in aid of new dressing room development at our field in Muckalee. We ask for your continued generosity in buying a Brick @ a cost of €100 for which your name will be prominently displayed on the wall of our new clubhouse