The St Martins / Muckalee GAA fun run date has been confirmed for Sunday 28th February.
The 5K run ( or walk ) will commence at 1.30pm from the St Martins Hurling field in Coon. Registration will take place in the Hall in Coon from 12.45pm. Light refreshments will be served in the hall for all after the run.
We would encourage all members and players to come along on the day, to "run" if they want to, but to certainly have "fun".
There will be a prize for the first player home in every St Martins team …….bragging rights against all your team members 🙂
Registration is €10 for Adults and €5 for students, primary school kids are free.
AGM WILL TAKE PLACE ON FRIDAY 22ND January     in MUCKALEE COM CENTRE at 8 o clock.
Please down load and complete these NOMINATION & MOTION PAPERS and return to our Club Secretary before 6pm on Friday the 15th January.
Note;
NOMINATION / MOTION PAPERS MUST BE RETURNED TO SECRETARY BEFORE FRIDAY 15TH at 6pm.
ST MARTINS / MUCKALEE GAA CLUBS
WILL HOLD A 5K FUN RUN
ON MONDAY DEC 28th IN COON
RACE STARTING AT 2 O CLOCK
REGISTRATION AT 1.30
ALL ARE WELCOME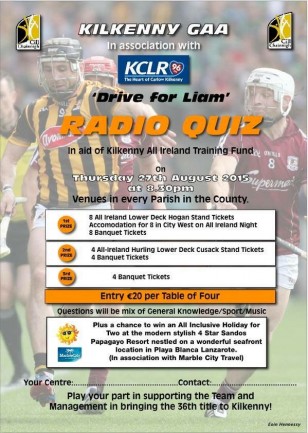 The Drive for Liam Quiz with take place this Thursday night 27th August in The Cave Bar and The Ranchers Return. Throw in at 8.30pm.
St Martins Bord na nOg Field day and Barbeque is on Sunday July 19th starting at 14:00. Promises to be a great day and family event so please support. Keep an eye out for more updates.
St. Martins U14 panel have qualified to represent Kilkenny at the national Féile Na nGael finals in Ulster this weekend. The team, mentors and supports travel to Antrim and updates on their progress will be available on the facebook link below. This is a fantastic achievement by the boys and mentors and we wish them a safe trip, great hurling and all the very best of luck.
https://www.facebook.com/pages/St-Martins-U14-Kilkenny/1620298608184648?ref=ts&fref=ts
St Martins Hurling club would like to wish all does starting exams on Wednesday the very best of luck.
€400 Jack Morrissey Knockmajor
€200  Thomas Nolan Knockmajor
€100  Paul Kinsella Coon West
€100  Mary Quirke The Ridge
€50  Noel Maher Damerstown
€50  Adrian Farrell Damerstown
€50  Danny Coonan Muckalee
€50  Brigid Purcell Coon East
€50  Tom Coady Uskerty
€50  Micheal Joyce Uskerty
€400  Annette Stapleton New Line
€200  Mrs Tallis Leapstown
€100  Siobhain O Neill Coon East
€100  Seamus Ring Julianstown
€50  Sean Comerford Clorinka
€50  Philip Shore teacher the Paddock Coon
€50  Mary Coogan Coon East
€50  John Coonan Muckalee
€50  Geraldine Hanlon Drumherin
€50  Micheal Morrissey Knockmajor
€400  Lynn Moloney Coon
€200  Bobby Byran coon West
€100  Suzanne Cullen Uskerty
€100  Liam Phelan Wildfield
€50  Helena Kelly the Brow
€50  Jimmy Maher Muckalee
€50  John Rice Coolraheen
€50  Eadoin Coonan Damerstown
€50  John Hennessy Knockmajor
€50  Tom Cody SNR Crettenclough