After another epic clash Galway emerged as Leinster champions with a massive statement of intent towards regaining the All Ireland they won last year. Conor Whelans 2-12 from play was enough to give him the top scorer from play in Leinster trailed by four other Galway men scoring their scoring strength. It also saw the emergence of the first three positions in the 2018 Inter County Bounty. In first place with a magnificent total of 190 is  Thomas Hiney of Abbeyleix and his prize a total of €1000. Second place (185) saw long time leader Nicky Siney of Ballinakill collect €400. While third place saw John Cahill (180) take home the prize of two All Ireland tickets and accommodation in Dublin for either the Hurling or Football All Irelands.  Huge congratulations to the winners and a massive thank you to all those who collected cards earlier in the year and to all those who took part it is much appreciated.
Top Scorers (Leinster)
| | |
| --- | --- |
| Conor Whelan (GAL) | 2.12 |
| Joseph Cooney (GAL) | 1.11 |
| Conor Cooney (GAL) | 0.14 |
| Cathal Mannion (GAL) | 0.13 |
| Joe Canning (GAL) | 0.12 |
Top Scorers (Munster)
| | |
| --- | --- |
| Seamus Harnedy (CO) | 3.14 |
| John Conlon (CL) | 1.19 |
| Tony Kelly (CL) | 1.15 |
| Patrick Horgan (CO) | 1.15 |
| Tommy Ryan (WAT) | 3.05 |
Excel InterCountyBounty 2018 St Martins
The wait for the first winner of  the ICB will go on for another week after Kilkenny and Galway drew in an absorbing final in Leinster. Cork took the spoils in Munster with Seamus Harnedy pipping John Conlon to the top scorers prize with 3.14 (23) scored.
Excel InterCountyBounty 2018 St Martins
All change at the top of the leaderboard with Clare and Cork winning through to the Munster final. This leaves just one remaining weekend for both the Leinster and Munster finals to decide on the winners of the first Inter-County Bounty. Tony Kelly and John Conlon are still inseperable in the scoring stakes. This means that going into the final weekend participant will have to have picked a winner in Munster and Leinster and a top scorer in both provinces to their is still plenty of points to play for.
Excel InterCountyBounty 2018 St Martins
Sad news as the passing has occurred of Fr. Martin Ryan after whom our great club is named. May he rest in peace. Details of funeral arrangements to follow.
Thanks to all those who supported the first Inter-County Bounty. The excel contains the scores of all participants to date alongside their top scorers.
Also outlined are the full scorers from play in both the Leinster and Munster Championships.
Joe Bergin currently leads in Leinster with a four way tie the case in Munster.
Excel InterCountyBounty 2018 St Martins
Muckalee & St Martins club collectors will be calling to all houses in the parish promoting the buy a brick campaign in aid of new dressing room development at our field in Muckalee. We ask for your continued generosity in buying a Brick @ a cost of €100 for which your name will be prominently displayed on the wall of our new clubhouse.
Larry Maher Chairman Muckalee Football club John Ryan Chairman St Martins Hurling club.
St Martins 1-11 Dicksboro 0-13
What a way to start the year for the Seniors! The lads showed massive determination from the first whistle and battled right to the 4th minute of injury time to start their championship campaign off with a vital two points.
Playing with a strong breeze in the first half, we put some quick points on the board through John Maher, Tom Breen and John Mulhall. With probably the youngest midfield pairing in the county, Shane Kinsella and Brian Coady hurling a world of ball, we remained on top to lead 0-8 to 0-2 at half time and but for some bad wides in the tricky breezy conditions we could have been further in front.
The chat on the bank at half time was whether or not 6 points would be enough for victory. As things turned out, it wasn't ….. but then it was 😀.
Playing with the wind in the 2nd half, it took a fantastic point blank save from Colin McGrath from Dicksboro's first attack to avoid what would have been a sucker punch start. The 'Boro steadily eroded the deficit and pulled ahead with only minutes to go. The lads showed tremendous determination and fought for every ball and got one last chance when we were awarded a free 50 yards out. Knowing that only a goal would do, Colin floated a perfect ball in to the edge of the square and somehow the ball ended up in the back of the net.
The half back line of Paddy Nolan, Brian Byrne and Mick Morrissey had a great game and with Shane, Brian and Tom Breen working tirelessly around the middle of the field we got our just rewards. It's important that we don't get carried away, but we should also celebrate a great team effort and performance and we can now look forward to Bennettsbridge in a couple of weeks in round 2!
St Martins 3-14 Tullaroan 2-11
On a bitterly cold evening, the Juniors of St Martins and Tullaroan ( not Thomastown 😀 ) served up a highly entertaining match in the Junior League. The local lads put in a great effort for the entire sixty minutes and fully deserved their win. A lively start from Donal Shore with an early goal and with Shane Kinsella keeping the scoreboard ticking over from placed balls we went in in front on a score line of 1-8 to 1-7 at half time.
It was nip and tuck for most of the 2nd half with no quarter asked or given. David and Thomas Walsh repelled many Tullaroan attacks as they went in search of an equalising goal during the last ten minutes. St Martins finished strongly with great points from play from Donal Shore, Martin Dowling and Robert Reid, while Jason Shore put the final nail in the Tullaroan coffin with a late goal.
Next up for the juniors is the first round of the league – championship against local rivals Erins Own next Friday evening.
Carrickshock were the visitors to Muckalee for this Junior Football League game and they went away with the points.Three goals scored in the opening half gave the visitors a big advantage at the break 3-4 to 0-2. Muckalee kept trying and scored two goals from Conor Dowling and Mark Murphy, final score 3-12 to 2-5.
Team Brian Cahill, Brian Cadigan,Nicholas Purcell, Alan Murphy, Conor Dowling, Conor Kinsella, Eoin Murphy, James Kelly, Mark Murphy 1-0, Eugene Maher, Loughlin Hogan, Shane Kinsella 0-2, Shane Dowling 0-2,Damien Tynan, Danny Quirke, Jason Shore 0-1.
Selectors Seamus Tynan Tom Dooley Anthony Maher
Ref.Ollie O Neill
6/3/2016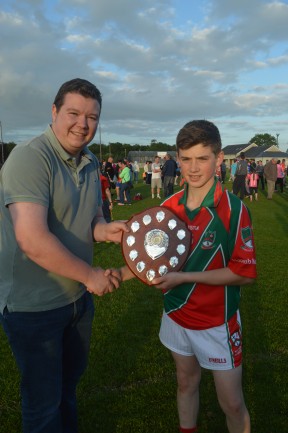 Kilkenny Bord Na nOg PRO Patrick O'Flynn presents The U14 Team Captain with the Duggan Steel U-14 Roinn B League Final Trophy after defeating Clara in the final.