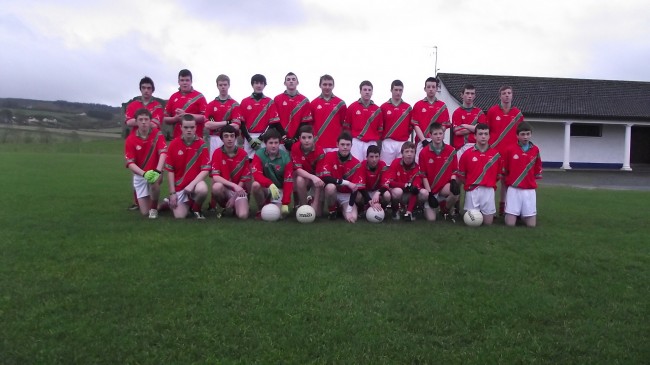 Early in the game  saw St. Martin's Brandon Sheehan take a point from a free after just 3 minutes. Defending well St. Martins however gave away a few handy frees but Piltown failed to capatilize.  The umpire was  over ruled on a tough decision to give a 45 from which Piltown eventually got a point.
St. Martins were in hard luck with a many attempts going wide. Piltown struck the post but it went to left and wide.  St. Martins found it very difficult to get through for scores but they tried hard.
After some serious attacking St. Martins got a free near the goal end but it was put wide and were then awarded a penalty which Mark Dowling  took well but denied by the Piltown goalie. Minutes later they were awarded another free but Aran Healy was denied by the post.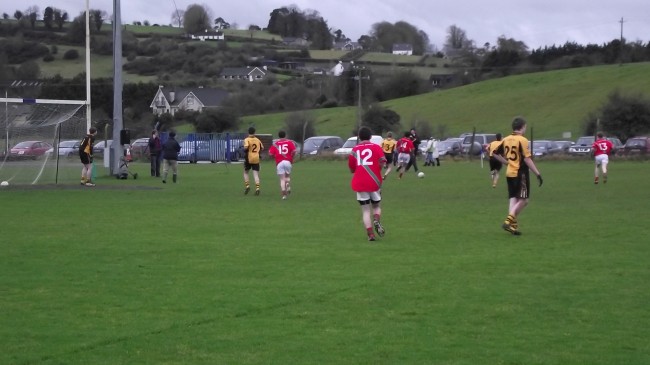 A strong attacking period by St. Martins failed to bear fruit and it was the turn of the defence to work hard. St. Martins got a free on the 21 yard line which Owen Murphy converted with a point. Piltown responded at the end of the first half with 2 points to leave the score at half time  3 points to St. Martin's 2 points.
Second half started with no quarter been given on the pitch or on the line. Piltown piled on the pressure but St. Martins defended well and after been awarded a free, Aran Healy put it over the bar. Piltown eventually got back to attack with a drive on goal but Conor Fahy stretched long to deny a sure goal. St. Martins attacked again and were rewarded with Brandon Sheehan fisting the ball into the Piltown net.
The action focused on the St. Martins backs again and they responded well if not a little too strong at times. The ref took control and Brandon Sheehan was sent to the line but a hop ball was given and Piltown eventually got a point. The game livened up with the St. Martins defence being tested and they responded strong but Piltown eventually got a point to leave St. Martins leading the game with 5 minutes to go.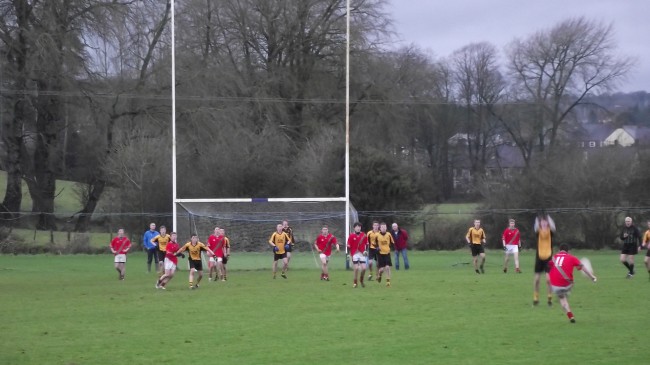 Piltown came back again and put the ball in the net as the game entered stoppage time and then got another 2 points  with 2 minutes to go. The extra man proved too difficult to contain and the game finished with disappointment for St. Martins with a final score of 1-7 to 1-4.
TEAM –
Conor Fahy, David Healy, Robert Reid, Tommy Downey, Loughlin Hogan, Richard Teehan, Stephen Walsh, John Joe Kelly, Brandon Sheehan, Mark Dowling, Jason Shore, Eoin Murphy,  David Walsh, Aaron Healy & Conor Dowling.
Subs :
Sean maher, Tommy Quirke, Aidan Egan, William Trousdell, Ronan Tynan, Colm O'Neill, Diarmuid Murtagh, Shane Dowling(inj),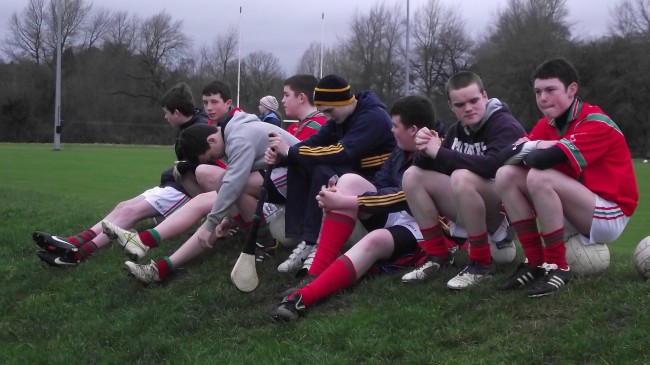 Team Mentors;
Joe Dowling, Pat Murtagh, Ger O Neill, Seamus Tynan, Michéal Brennan.
St. Martin's GAA Club would like to wish all of you a very Happy Christmas and Prosperous New Year. We thank you for all of the support you gave us throughout 2012 and we look forward to a busy 2013.
Stay safe over the Festive Season and don't forget new memebers are always welcome at St. Martin's GAA Club.
1.  Micheal Callanan Ruthstown
2.  Pat Murtagh Barry's Cross
3.  Danny Quirke The Ridge
4.  Dale O Dwyer Muckalee
5.  Thomas Comerford Clorinka
6.  Paddy Morrissey Knockmajor
7.  Donal Brennan Coon
8.  Martin Ryan Damerstown
9.  Sean O Neill Coon East
10.  Warren Gill Kilkieran
11.  Liam Murphy Cassagh
12.  Ger O Neill Coon West
13.  Tom Shore Crettenclough
14.  Alf Shea Damerstown
15.  John Dowling Ruthstown
16.  Micheal Fahy Ruthstown
17.  Bill Trousdell Aughamuckey
18.  T.J. Kelly c/o Richard Nolan Knockalane
19.  Brendan Walsh Knockmajor
20.  Gerry Buggy Crettenclough
Congratulations to Jenny Nolan who won first prize in the December Members Draw.  For other winners see Draw Results.
St. Martins / Muckalee Gaa Clubs would like to thank everyone who supported them during the year and look forward to your continued support in 2013.  We wish everyone a Happy and Peaceful Christmas.
€600  Jenny Nolan Knockalane
€400  June Brennan Kylefarney
€200  Louise Ruane Ballyfoyle
€100  Liam Dowling Kylefarney
€100  Andy Dowling Crettenclough
€100  Lorraine Coady Lr Muckalee
€100  Bill Dowling Crettenclough
€100  Liam Hally Julianstown
€100  Tom Lawlor Dunmore Park
€100  Richard Nolan Knockalane
€50  Joe Brennan Corbettstown
€50  Michelle Farrell Damerstown
€50  Paul Brennan Corbettstown
€50  Seamus Butler Upper Mothel
€50  Micheal Mulhall Lr Mothel
€50  Robert Shore Coon West
€50  Kate Morrissey Knockmajor
€50  Matty Brennan Ballyfoyle
€50  Marie Mc Dowell Knockshanbally
€50  Brendan Menton Wildfield
€50  Theresa Haughney Coon West
€50  Seamus Ryan Clorinka
€50  Myles Kehoe Cassagh
€50  Rosealeen Keogh Crettenclough
House Prize Sponsored by Ranchers Return: Marie Dooley(Pat) Knockshanbally.
€400  Ann Morrissey Waterbarrack Kilkenny
€200  Matty Brennan Ballyfoyle
€100  John Rice Coolraheen
€100  Maura Rice Coolraheen
€50  Kitty Coady Crettenclough
€50  Mary O Mahony Wildfield
€50  Tom Moran Knockmajor
€50  Eamon Breen Muckalee
€50  Tom Agar Donaguile
€50  Eamon Healy c/o Geraldine Morrissey Julianstown
This years Agm will take place on Fri 11th  January in Muckalee Community Centre at 8pm.  Nomination Papers are now available in the 3 Churches. All papers correctly signed to be returned to Secretary Lillian Holohan by Fri 28th December.
The 17th St Martins Bord na nÓg AGM took place in Ballyfoyle on 30/11/2012.  There was a great attendance for this important meeting and some great debates took place with  some good decisions being made in order to benefit the younger members of the Club. A big thanks to our main sponsors Willie Forde (Eurospar Castlecomer)minor, Jim Bolger(u16) and Geoff Doyle(u14). Well done to all who helped with fundraising throughout the past year, looking after teams, sponsors for tournaments and anybody who helped the club in the past year. Officers that were elected are Chairman Patrick O flynn,  Secretary Michéal Brennan, Treasurer Michael Manning, Pro Martin Stapleton and Co Board reps are Breda Tynan and Donnacha Quinlan. Selectors for each age group were also elected and all are looking forward to an eventful year in 2013.
Best of luck to Sean Kelly on his appointment as selector with Kilkenny Minor hurlers for 2013
St. Martins Bord na nÓg will holds it's AGM in Ballyfoyle at 8pm next Friday night 30th November at 8pm. All are welcome and please come and make a difference in this great Club.