Old Football Match Reports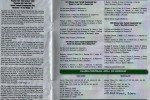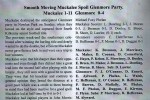 Old website match reports go here…
JUNIOR COUNTY FINAL 2007
Muckalee's hopes of bridging a 34 year gap since they last won the junior championship came unstuck at Nowlan Park on 20/5/07 when they were defeated by Graiguenamanagh by 2–11 to 1–6. The final scoreline did not reflect the true story of the game as it was only in the last ten minutes that Graiguenamanagh pulled away. Graiguenamanagh started well and had two points registered before Pauric Keegan pointed. John Dooley, back from retirement, kicked over two points to put Muckalee ahead by 0–3 to 0–2. However Graiguenamanagh got in for a goal midway through the half and added on three more points before Pauric Keegan scored Muckalee's last point of the half to leave the score 1–5 to 0–4.
A couple of early points from Graiguenamanagh stretched their lead further and things looked bad. Another surging run from John Dooley resulted with a scorching shot barely going over the bar instead of under it. Muckalee fought for every ball and were really on a roll when Robert Shore shot to the Graiguenamanagh net to leave just two between t he sides. Graiguenamanagh kicked over another point
to go three clear. Moments later Paul Brennan appeared to be hauled down in the square but appeals for a penalty fell on deaf ears. With ten minutes left the ball was eventually finished to the Geaiguenamanagh net but the referee again ruled in favour of Graiguenamanagh men and gave a free out. Graiguenamanagh hit back with a goal to which Pauric Keegan replied with a pointed free. In the dying minutes Graiguenamanagh scored a couple of more points to run out winners but they certainly knew they were in a game by the end.
The loss of eight players to the senior team, plus a few injuries that kept other players out of the team certainly took its toll but the players can be proud of the way they fought against the odds.
Team: John Coonan, Nicky Purcell, Dermot Comerford, Patrick Nolan, Niall Moran, Niall Moloney, Shane Comerford, Don Callanan, Michael Mulhall, Richard Nolan, Robert Shore, Pauric Keegan, John Dooley, Eoin Maher.
Subs: Brian Cadogan, Paul Brennan, David Shore (all used), Darren Holohan, Caleb Daly Michael Nolan
RESULTS 2007
Senior football league: !st round  Muckalee 1–9, Railyard 1–9
2nd round: Muckalee 3–12 Kilmoganny 0–3
4th round   Muckalee 3–15, Dicksboro 0–5
3rd round   Muckalee 1–9, Mullinavat 2–6 (after being postponed earlier in month)
League final Muckalee 2–15 Erin's Own 1–9
Quarter final of championship   O Loughlin Gaels 2–11 Muckalee 1–13
Junior football : 1st round Muckalee 2–10 Lisdowney 1–7
2nd round Muckalee 1–8  Clara 1–7
3rd round  Graiguenamanagh 2–5,  Muckalee 0–3
Quarter final   Muckalee  1–10, Railyard 2–7 (draw)
Replay Muckalee 2–7  Railyard 0–7
Semi Final   Muckalee beat Windgap by 0–1
Final  Graiguenamanagh 2–11 Muckalee 1–6
CLUB OFFICERS
Officers of Club 2007
Presidents: Fr. L. Wallace, Fr. J Delaney, Fr. Martin Ryan and Pakie Lawlor
Chairman: Larry Maher.
Vice-Chairman: Nicky Morrissey.
Secretary: Paddy Morrissey.
Treasurer;Patsy Murphy
PRO: Paddy Morrissey
Delegate to County Board: Eddie Butler.
Delegates to Footbal Board: Eddie Butler and Eoin Maher
Senior Football Trainer: Christy Walsh
Senior Selectors: Dermot Comerford, Eoin Maher and Christy Walsh
Junior Selectors: Dermot Comerford, Tom Agars and Richard Nolan ( Knockalane)
U-21 Selectors: Anthony Maher, Patsy Murphy and Eddie Butler
Disciplinary Committee: Nicky Morrissey, Patsy Murphy, Eddie Butler, Richard Nolan (Knockmajor) and Paddy Morrissey.
PITCH DEVELOPMENT
Pitch development
The floodlighting of the pitch was completed at the end of September 2007, just in time for the last training session before St. martins senior hurlers faced Carrickshock in the quarter final of the senior championship. These lights can be raised and lowered hydraulically to allow for easier and safer  maintenance. They are the highest (500 lux) standard of lights in use at any pitch in Kilkenny county at present. They should be of enormous benefit to both the football club and the hurling club in the coming years. They will certainly allow for greater flexibility as regards training times on dark evenings.
The drainage of the pitch was started as soon as the floodlighting was completed and was finished around mid October. Again this should greatly improve conditions in the pitch, especially if the pitch is being used a good bit. Unfortunately the pitch will have to remain closed until late spring or early summer to give the grass an opportunity to grow over the drains.