On Thursday evening St Martins U12s welcomed Clara to Muckalee for a challenge game. On a wonderful evening for hurling both sides gave their all and a fast flowing game ensued.
With both defence's on top in the first half scores were at a premium. The game opened up in  the second half and the forward lines started to make some great scoring opportunities. A brilliant goal line clearance form Andrew Buggy mid way through the half kept the Martins goal in tact. Our midfield of Daragh Quinlan and Donal Coughlan again got  through a huge amount of work. The half back line of Darragh Coughlan, Dan Doyle and Jack Murphy really got to grips with their men in the second half. Up front Tommy Butler, James Carrigan and Justin Manning hurled well.
Team from Shane Brennan, Paul Murphy, Adam Agar,Andrew Buggy, Jack Murphy, Darragh Coughlan, Dan Doyle, Daragh Quinlan, Donal Coughlan, Conor Mulhall, Justin Manning, James Carrigan, Tommy Butler, Ronan Shore, and James Dowling.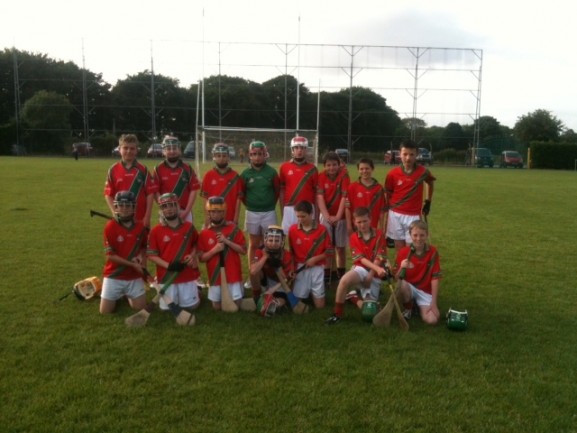 St Martins U11s went to Ballyragget on Friday evening for their annual Phelan Stone and M&A Coaches Hurling Tournament. On a perfect evening for hurling the young saints played St Lactains in their first game and it was keenly contested. With Martins taking control of the middle of the field there was plenty of scoring chances and were mostly taken. In their second game Martins took on Thomastown. In a much tighter game scoring was lower and it was martins sharper touch in front of goal that proved decisive. The last game was against old foes James Stephens the intensity of this game was red hot with neither team giving an inch. As the game went on the exertion of the games started to tell and the intensity fell off. Captain Josh Dempsey received the honours from Ritchie Stone. The players and Mentors were treated to refreshments after the games.
Thanks to all the parents who travelled to all the games over the last few weeks.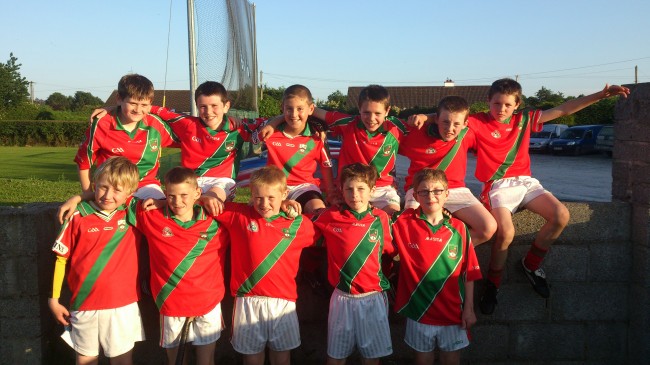 St. Martins U11s played their first home game of the season in Muckalee last Friday 28th June against Bennetsbridge. The game was keanly contested on a lovely evening for hurling.
They continue their series of matches this week with a home game in Coon on Tuesday evening against Dicksboro and then they travel to Ballyragget for the annual Under 11 blitz.
The go-games commence on the 20th July with home and away games right up to the middle of September.
The Panel;  Shane O'Neill, Shane Fahy, Tristan Roche, Lorcan Agar, Mathew Shortall, Jack Farrell, Joseph Reid, Cillian Bryan, Cillian Shanahan, Bill Dowling, Aaron O'Dea, Josh Dempsey, Josh Delahunty, Tomas Lawlor and Henry Hueston.
St Martin's U11s were one of 24 teams who took part in the St Patrick's tournament. In a great first match we performed very well against O Loughlin's and led all the way but a spirited comeback from the town team saw the sides finish level at full time. Our performance dipped in the 2nd match and we were thoroughly out played by St Lachtains.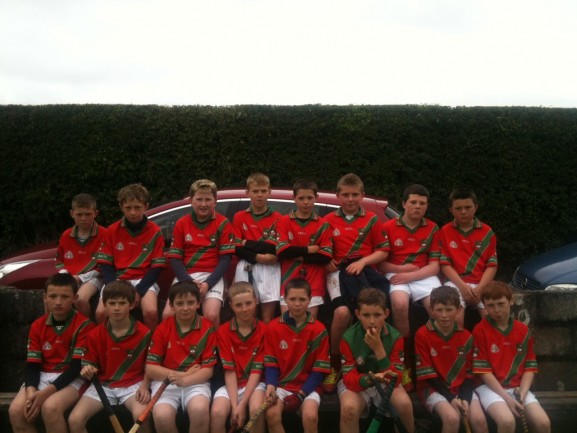 Our final match was against a strong Athenry team  from Galway. In a great match the lads put in a much improved display and fought gallantly to the end but came up short.
A great days hurling was had by all and credit must go to St Patricks for the organisation they put into the day.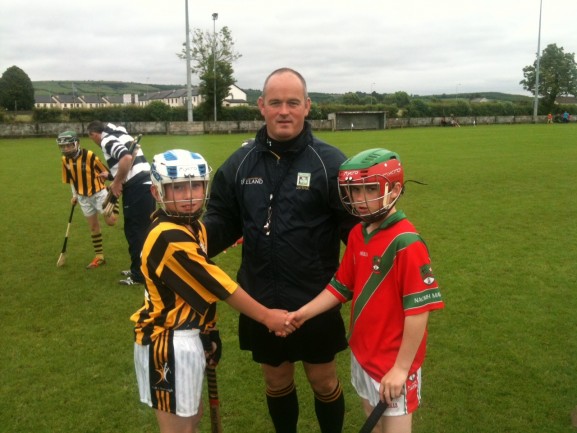 Panel : Ronan Shore Daragh Coughlan Donal Coughlan James Carrigan Shane Brennan Daniel Doyle James Dowling James Daniel Daragh Quinlan Harry Kealy Paul Murphy Jack Murphy Andrew Buggy Justin Manning Adam Agar Conor Mulhall
18/03/12
On a glorious sunny morning for hurling, St Martins entertained Crumlin U11s in Coon on Sunday morning. Before the throw in the Crumlin captain presented St. Martin's with a commerative pendant. In an evenly contested match both sides gave their all and provided much entertainment. Great defensive display in the first half  meant St Martin's only trailed by 1-2 to 1-0 after playing against the wind.  St Martin's finished the game stronger with some long range points resulting in a great win for the lads on a score line of 3-2 to 2-3.
After the game Crumlin presented a plaque to St Martins to mark the occasion and everyone enjoyed the refreshments that were provided by the parents of the home team. St Martins panel : Daragh Coughlan, Donal Coughlan, Paul Murphy, Adam agar, James Daniels, tommy butler, Justin manning, Andrew buggy, Colm Kealy, Harry Kealy, Shane  Brennan, Daniel Doyle, Ronan shore, Daragh o Shea , Daragh Quinlan, James Dowling, James Carrigan, John Murphy, Conor Mulhall
Selectors: Donncha Quinlan, PJ Shore, Donal Coughlan, Martin Dowling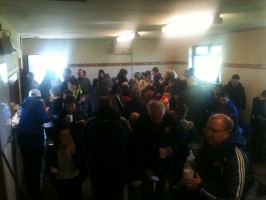 St Martins Juvenile Registration night will take place  in Muckalee Community Centre on Wednesday  1st Feb from 7pm to 8pm for age groups under 6, 8, 10, 12 and 14.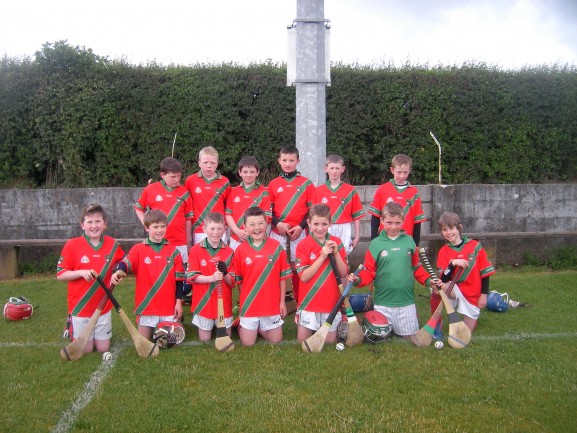 St Martins U 11s played in the M&A blitz in Ballyragget  on Saturday June 18th Although the weather was not  good  a great day was had by all.
Panel of players:  Colm Kealy, Robert Dowling, John Murphy, Oscar Bennet, James Carrigan, Justin Manning, Daniel Doyle, James Dowling, Shane Brennan, Paul Murphy, Jack Murphy, Harry Kealy, Conor Mulhall.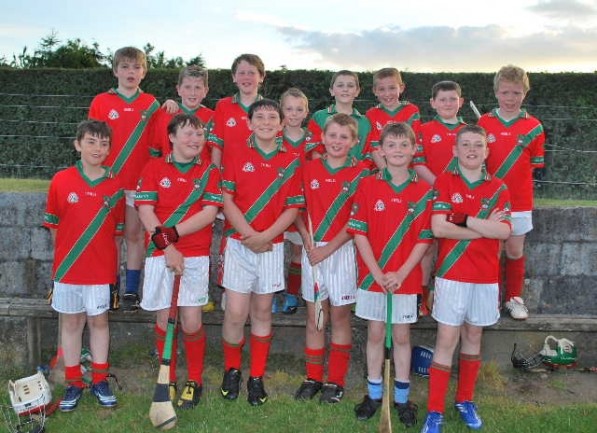 The Under-11 team recently took part in a 12 a side blitz hosted by St. Patrick's Ballyragget. They played three games against James Stephen's B, Lisdowney and the hosts, Ballyragget.
They played very well in all three matches, winning them all, with some excellent goals and points scored.
Rather than nominate one player, all players deserve equal credit for excellent team displays in all three matches, particularly against Lisdowney where they had to come from behind to win.
Well done to all.
Panel
Richard O'Shea, Darragh O'Shea, Patrick Darcy, Jack Nolan, Conor Moloney, Adam Comerford, Matthew Cullen, Daniel Doyle, Kieran Fahy, Jason Comerford, Dean Farrell, Ciaran Brennan, Colm Kealy, Robert Dowling
U-11 Go-Games Ground Hurling All Games at 6.30pm
Wed 5th Aug, Coon. St Martin's v O' Loughlin Gaels. Wed 12th Aug Muckalee. St Martin's v Dicksboro.Wed 19th Aug, Pairc Lachtain. St. Martins v St. Lachtains.
Panel of ten players per night usual go-game rules.