AGM WILL TAKE PLACE ON FRIDAY 22ND January     in MUCKALEE COM CENTRE at 8 o clock.
Please down load and complete these NOMINATION & MOTION PAPERS and return to our Club Secretary before 6pm on Friday the 15th January.
Note;
NOMINATION / MOTION PAPERS MUST BE RETURNED TO SECRETARY BEFORE FRIDAY 15TH at 6pm.
ST MARTINS / MUCKALEE GAA CLUBS
WILL HOLD A 5K FUN RUN
ON MONDAY DEC 28th IN COON
RACE STARTING AT 2 O CLOCK
REGISTRATION AT 1.30
ALL ARE WELCOME
€600  Noel Shortall coon East
€400  Jim Moran Knockmajor
€200  Ger Reilly Ruthstown
€100  Richard Nolan Knockalane
€100  Micheal Brennan Kilkieran
€100  Martin Dowling Crettenclough
€100  Gerry Carrigan Ruthstown
€100  Ann Nolan Knockmajor
€100  Judy Somers Crettenclough
€100  Noreen Meagher Kilkieran
€50 Gerry Buggy Crettenclough
€50  Thomas Walsh coolcullen
€50  Johnny Comerford coolcullen
€50  Miriam Quinlan Crettenclough
€50  Monica O Shea Damerstown
€50  Tom Tynan Clorinka
€50  Nial Clancy Coolcullen
€50  Majella Stapleton Ballyfoyle
€50  Jack Ryan Damerstown
€50  Patrick Nolan Corbettstown
€50  Eileen Kelly Ballasalla
€50 Tom Morrissey Clorinka
€50  Fiona Ryan Damerstown
€50  Aishling Kelly Knockshanbally
The club would like to thank everyone for their continued support and wish everyone and HAPPY CHRISTMAS AND NEW YEAR.
€400  Siobhain O Neill coon East
€200  Phil Purcell Coon East
€100  Fr Martin Ryan Coon
€100  James Maher muckalee
€50  Mary Shore Crettenclough
€50  J.S. Bolger coolcullen
€50  Brigid Ryan Clorinka
€50  Colette Kelly coon west
€50  Warren Gill Kilkieran
€50  John Buggy jnr Drumherin
€400  Theresa Kelly Crettenclough
€200  Eilis Burke Ballyfoyle
€100  Pat Mc Dowell Knockshanbally
€100  Warren Gill Kilkieran
€50  Johnny Comerford Coolcullen
€50  Claire Cadigan Uskerty
€50  Patrick O Flynn Corbettstown
€50  Rita Breen Damerstown
€50  John Mc grath crettenclough
€50  Eddie Teehan Bullock Hill
€400  Elizabeth Dowd Damerstown
€200  Helena Ruane Damerstown
€100  Donnacha Quinlan Crettenclough
€100  Liam Coogan Coon East
€50  Bill Trousdell coon
€50  Theresa Kelly crettenclough
€50  Mary Coogan Castleview
€50  Pat Geoghegan Gaulstown
€50  Fr Martin Ryan
€50  Pat Mc Dowell Knockshanbally
€400  Betty Cahill Muckalee
€200  Tracey Kealy Mothil
€100  Frankie Keane coon west
€100  John Dooley Kylefarney
€50  Shem Kelly Knockmajor
€50  Mary dowling Park
€50  Veronica Clancy coolcullen
€50  John Fitzpatrick crettenclough
€50  Eileen Kelly ballasalla
€50  Imelda Kealy Mothil
St.Martins u.16 camogie team finished their season on a high with a great win over neighbours O'Loughlin Gaels in the Shield Final on Tuesday night in St. John's Park. There was nothing between the sides in a keenly contested first half. The girls battled hard with scores from Laura Tynan (1-2) and Rebecca Roche (0-1) and were just trailing by a single point at half time and would have been better off on the score board but for fine saves from the O'Loughlin Gaels goalkeeper.  Not to be outdone, St. Martin's netminder Caoimhe McGuinness also pulled off some great saves throughout the game.  Half time score: O'Loughlin Gaels 1-4 St.Martins 1-3.  The second half saw St. Martin's come out with great determination. O'Loughlin's extended their lead by three points but St. Martin's came back at them again with points from Laura Tynan and Alannah Keegan followed by a goal from Laura Tynan and a further 1-1 added by Katie O'Neill to take the lead. Loughlin's got a consolation goal deep in injury time but the Saints took the spoils on a score line of St. Martin's 3-8 to O'Loughlin Gaels 2-7.
Team: Caoimhe McGuinness, Chloe Dooley, Therese Kelly, Fiona Manning, Orlaith Cahill, Annie Dowling, Clodagh Hanlon, Katie Holohan, Claire Moore, Laura McDowell, Laura Tynan (2-5), Rebecca Roche (0-1), Kate Geoghegan, Katie O'Neill (1-1), Catriona Murtagh.
Subs: (all used) Alannah Keegan (0-1), Sinead Healy, Martina Morrissey, Emma Taylor, Hazel Moore, Grainne Kelly (inj). Roisin Coady (unavailable)
Selectors: Paddy Morrissey, Tom Dooley, Pat Geoghegan
Referee: Seamus Quigley
15th September 2015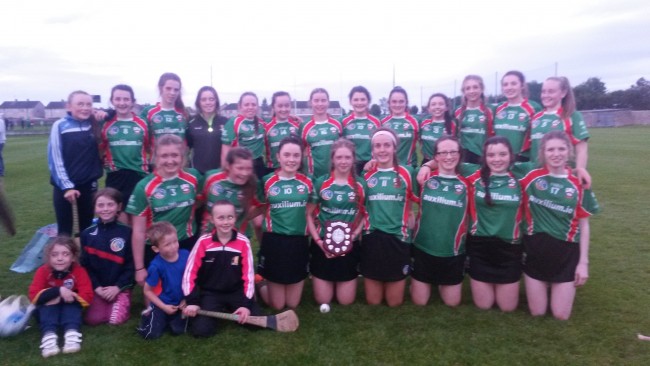 The long awaited replay to the County Senior Football Final took place in Nowlan Park before a very enthusiastic attendance. Muckalee were first on the scoreboard with a pointed line ball from Colin McGrath in the first minute. Railyard soon levelled and it was point for point up to the end of normal time scorers for Muckalee were John Maher with two and Robert Shore with the assists from Bryan Byrne Mick Morrissey and Colin McGrath. In added time Railyard doubled their score hitting 1-1in two minutes putting them in a strong position at the break ,score 1-5 to 0-4. On the resumption Colin McGrath was first to point after a pass from Mick Morrissey, John Maher pointed following a foul on Brandon Sheehan. Next a second goal to Railyard increasing the lead to five points. Now it was up to Muckalee to respond to the challenge and to a man they did scoring 1-3 to regain the lead. Scorers were Colin McGrath with a penalty that gave the goalie no chance plus a pointed free , John Maher had 0-2  one free Brandon Sheehan had a big input having been taken down for the penalty and also for a free. Now with ten minutes remaining both sets of supporters were wishing their side to hold on or to make a comeback it was the defending champions that finished the stronger and win by two points. Both sides lost a player to a black card. While disappointed in the result  Muckalee Club would laud the achievement of the players in contesting seven finals in a row, and wish Railyard all the best in the Club Championship.
Team Stephen Murphy, Aidan Murphy, Ollie Walsh, Noel Darcy, James Maher, Paddy Nolan, Mick Morrissey, Joseph Maher, Tom Morrissey, John Maher 0-5,0-3f,Brandon Sheehan, Colin McGrath (Capt.) 1-3,1pen. 1lb,1f, Eoin McGrath, Robert Shore 0-1.
Subs  Martin Dowling, Shane Coonan, John Mulhall, all played their part.
Rest of panel John Coonan, Fionn Lawlor, Jason Shore, Eugene Maher, Conor Kinsella, Luke Maher, Paul Maher (inj,), Shane Dowling, Shane Egan, Damien Egan, Aidan Egan, Eoin Murphy, Jack Dowling, Brian Cahill, Paddy Brennan, James Kelly.
Managment Team Tom Cullen, Martin Dowd, Larry Maher.
Ref. Sean Cleere
23/august/2015
Well done to Noel Darcy Ollie Walsh and Robert Shore on winning the British Junior Football Championship with Kilkenny earlier this year they lost out to Mayo in the All-Ireland Junior Semi-Final
The draw for All Ireland tickets for members of St. Martins / Muckalee GAA Club will take place in Coon Hall on Sunday 30th next. Registration will begin at 7.30pm followed by the draw. You must be present to enter the draw.