The Club would like to thank everyone for their continued support and wish everyone a Happy Christmas and New Year.
€600 Breda Maher Damerstown
€400 Ger o Reilly Ruthstown
€200 Seamus  O'Keeffe Coolcullen
€100 Margaret Malone Ballyfoyle
€100 Richard Nolan Knockalane
€50 Denise Dowling Crettenclough
€50 Sean Comerford Clorinka
€50 Nicola Cody Kylefarney
€50 Seamus Malone Ballyfoyle
€50 Phil Shore (DI) Coon West
€400 Betty Rice Coolraheen
€200 Judy Somers Coon
€100 Shem Kelly Knockmajor
€100 Paul Tallis Leapstown
€50 Martin Dowd Damerstown
€50 Martin Tynan Clorinka
€50 Patrick Healy Crettenclough
€50 Helena O Mahony Knockalane
€400 Jim Moran Knockmajor
€200 Martina Manning Rue Lane
€100 tom Agar Castlecomer
€100 Micheal Manning Ballyfoyle
€50 Breda Tynan ballyfoyle
€50 Richard Healy Hillview Ballyfoyle
€50 Noreen Kinsella coon
€50 Richard Shortall Yellow rd
€400 Ger Kinsella Coon West
€200 Breda Tynan Ballyfoyle
€100 Anna Moore Rue lane Johnswell
€100 Claire Cadigan Uskerty
€50 Andy Dowling Crettenclough
€50 John Mulhall Knocknew
€50 Mairead Malone Damerstown
€50 Robert Dowling Clopook
€400  Andy Dowling Crettenclough
€200 John Fitzpatrick Crettenclough
€100 Ann Walsh Brown House
€100 Sean O Neill Coon East
€50  Donal Brennan Coon
€50 Bernadette Dooley Knockshanbally
€50  Nick Healy Corbettstown
€50 Ann Nolan Knockalnane
€400 Jimmy Watchorn Crettenclough
€200 Betty Rice Coolraheen
€100 James Dowling Park
€100 Anna Carrigan Ruthstown
€50  Gerard Comerford Clorinka
€50 John Moore Coon East
€50 Mary Cadigan Uskerty
€50 Phil Shore Daisy The Bungalow
€400 Micheal Gorey Dublin
€200 Micheal Manning Ballyfoyle
€100 Ollie Nolan the green Ballyfoyle
€100 David shore Crettenclough
€50  Anthony Maher damerstown
€50  Tom Coady Kylefarney
€50 Lucy Lawlor Dunmore park
€50 Dominic Phelan ballyfoyle
"Club supported by Kilkenny Communities Facilities Grant Scheme 2017"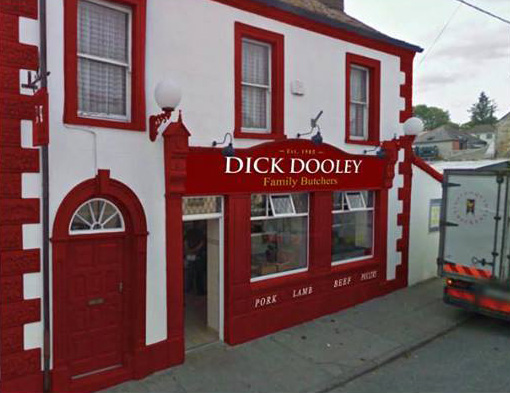 Dick Dooley Family Butchers was first established in Ballyragget in 2004. In 2015 we availed of an opportunity to buy a long established butcher premises that had closed in Castlecomer. Since opening we have broadened our business to include a Homemade, Hot and Cold Deli section as well as developing an Outside Catering arm to the business for all your catering needs. Our business is based around using quality, locally sourced foods to give our customers the freshest product possible, while also introducing international flavours to our value added foods.
Our aim is to continue to supply the North of Kilkenny and surrounding areas with Quality, Local food while providing much needed employment in the community around us. It is a huge honour to be associated with St Martins GAA. As a former player and mentor I understand the huge work put in to the club, for the benefit of all the parish.
Dick Dooley Family Butchers wishes the club continued success, on and off the field.
Dick Dooley Family Butchers
Barrack Street,
Castlecomer
Co. Kilkenny
Tel. 056 440 0822