Muckalee & St Martins club collectors will be calling to all houses in the parish promoting the buy a brick campaign in aid of new dressing room development at our field in Muckalee. We ask for your continued generosity in buying a Brick @ a cost of €100 for which your name will be prominently displayed on the wall of our new clubhouse.
Larry Maher Chairman Muckalee Football club John Ryan Chairman St Martins Hurling club.
St Martins 1-11 Dicksboro 0-13
What a way to start the year for the Seniors! The lads showed massive determination from the first whistle and battled right to the 4th minute of injury time to start their championship campaign off with a vital two points.
Playing with a strong breeze in the first half, we put some quick points on the board through John Maher, Tom Breen and John Mulhall. With probably the youngest midfield pairing in the county, Shane Kinsella and Brian Coady hurling a world of ball, we remained on top to lead 0-8 to 0-2 at half time and but for some bad wides in the tricky breezy conditions we could have been further in front.
The chat on the bank at half time was whether or not 6 points would be enough for victory. As things turned out, it wasn't ….. but then it was 😀.
Playing with the wind in the 2nd half, it took a fantastic point blank save from Colin McGrath from Dicksboro's first attack to avoid what would have been a sucker punch start. The 'Boro steadily eroded the deficit and pulled ahead with only minutes to go. The lads showed tremendous determination and fought for every ball and got one last chance when we were awarded a free 50 yards out. Knowing that only a goal would do, Colin floated a perfect ball in to the edge of the square and somehow the ball ended up in the back of the net.
The half back line of Paddy Nolan, Brian Byrne and Mick Morrissey had a great game and with Shane, Brian and Tom Breen working tirelessly around the middle of the field we got our just rewards. It's important that we don't get carried away, but we should also celebrate a great team effort and performance and we can now look forward to Bennettsbridge in a couple of weeks in round 2!
St Martins 3-14 Tullaroan 2-11
On a bitterly cold evening, the Juniors of St Martins and Tullaroan ( not Thomastown 😀 ) served up a highly entertaining match in the Junior League. The local lads put in a great effort for the entire sixty minutes and fully deserved their win. A lively start from Donal Shore with an early goal and with Shane Kinsella keeping the scoreboard ticking over from placed balls we went in in front on a score line of 1-8 to 1-7 at half time.
It was nip and tuck for most of the 2nd half with no quarter asked or given. David and Thomas Walsh repelled many Tullaroan attacks as they went in search of an equalising goal during the last ten minutes. St Martins finished strongly with great points from play from Donal Shore, Martin Dowling and Robert Reid, while Jason Shore put the final nail in the Tullaroan coffin with a late goal.
Next up for the juniors is the first round of the league – championship against local rivals Erins Own next Friday evening.
Carrickshock were the visitors to Muckalee for this Junior Football League game and they went away with the points.Three goals scored in the opening half gave the visitors a big advantage at the break 3-4 to 0-2. Muckalee kept trying and scored two goals from Conor Dowling and Mark Murphy, final score 3-12 to 2-5.
Team Brian Cahill, Brian Cadigan,Nicholas Purcell, Alan Murphy, Conor Dowling, Conor Kinsella, Eoin Murphy, James Kelly, Mark Murphy 1-0, Eugene Maher, Loughlin Hogan, Shane Kinsella 0-2, Shane Dowling 0-2,Damien Tynan, Danny Quirke, Jason Shore 0-1.
Selectors Seamus Tynan Tom Dooley Anthony Maher
Ref.Ollie O Neill
6/3/2016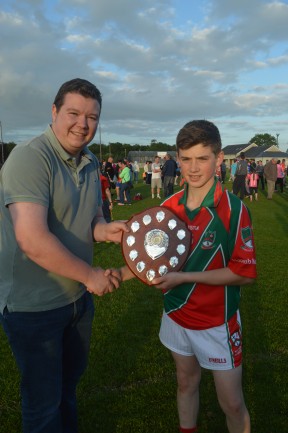 Kilkenny Bord Na nOg PRO Patrick O'Flynn presents The U14 Team Captain with the Duggan Steel U-14 Roinn B League Final Trophy after defeating Clara in the final.
St. Martins U14 panel have qualified to represent Kilkenny at the national Féile Na nGael finals in Ulster this weekend. The team, mentors and supports travel to Antrim and updates on their progress will be available on the facebook link below. This is a fantastic achievement by the boys and mentors and we wish them a safe trip, great hurling and all the very best of luck.
https://www.facebook.com/pages/St-Martins-U14-Kilkenny/1620298608184648?ref=ts&fref=ts
St. Martin's U8's Camogie team played their final blitz of the season which they hosted in Muckalee last Saturday 24th August . St. Martin's played against Lisdowney, St. Brigid's and St. Lachtain's on the day and the girls provided the supporters to a fine display of Camogie in each game.  The St. Martin's girls showed some great skill on the day which is down to their determination and practice throughout the season and to their coaches Noel Shortall, Marie Healy and Ann Stapleton.
The girls were presented their medals for 2013 on the day by Senior player Edwina Keane.
Team – Cora Dooley, Sinéad Carrigan, Alyson Shortall, Ciara Butler, Eva Lawlor, Chloe Ryan, Gráinne Healy, Tara Roche.
– Jessica Drew, Rachel Moloney, Leah McCarthy, Grace Healy, Lauren Joyce, Orla Moore, Sophie Henderson, Leanne Patterson.
St. martins U6 girls played their first challenge match against Dicksboro on Saturday the 29th of June in Dicksboro.  Nora McCarthy played a great game in goals with a lot of help from her backline of Caoimhe Phelan, Molly Farrell and Roisin Healy.  Our two centre field girls Casey and Emma held Dicksboro well throughout the match.  Molly Fox, May Cummins and Aoibheann Healy put in more great performances in the forwards.  Molly Farrell scored our first goal early in the first half with May Cummins adding another early in the second half.  Dicksboro played a great game throughout and with two late goals leveled the match.  Great fun was had by both teams and the girls were thrilled with the draw.
Our U8 team played their second blitz this season in Dicksboro last Saturday 29th June.  In the first game the St. Martin's girls were up against the hosting team Dicksboro 2 and after a great performance by St. Martin's the hosting team proved too strong on the day.  The next game was against Freshford and St. Martin's provided the supporters to a fine display of Camogie to win the game.  The final game was against Johnstown and the St. Martin's girls showed some great skill and good goal scoring to come out the winners.
Players on the day were Orla Moore, Chloe Ryan, Jessica Drew, Cora Dooley, Sophie Henderson, Sinead Carrigan, Rachel Moloney, Grace Healy, Gráinne Healy, Nora McCarthy, Leanne Patterson, Alison Shortall with trainers Noel Shortall, Marie Healy and Ann Stapleton.
U 10 Camogie Blitz in Coon.
With the Camogie blitz season now in full swing our U10 girls played some great hurling at their home blitz in Coon last evening (Tuesday 26/6). The home team hosted teams from Tullaroan, Danesfort and Ballyragget.  The dry evening bought out the crowd and they were treated to some great displays of hurling from all the teams.  Some lovely ground hurling lead to some great goals by the home team, including a hat trick by one enthusiastic player.  We were also treated to some great displays of lifting and striking the ball especially around midfield.  The girls came away with a win and a draw and are looking forward to their next outing on the 6th July in Tullaroan. Our U8 girls will be in action this Saturday morning (28/6) in Dicksboro. Hope to see you all there.