Congratulations to Ciaran Brennan and Jack Nolan on their sucess with St Kierans College in winning the All Ireland Junior Colleges Championship.
AGM WILL TAKE PLACE ON FRIDAY 22ND January     in MUCKALEE COM CENTRE at 8 o clock.
Please down load and complete these NOMINATION & MOTION PAPERS and return to our Club Secretary before 6pm on Friday the 15th January.
Note;
NOMINATION / MOTION PAPERS MUST BE RETURNED TO SECRETARY BEFORE FRIDAY 15TH at 6pm.
The draw for All Ireland tickets for members of St. Martins / Muckalee GAA Club will take place in Coon Hall on Sunday 30th next. Registration will begin at 7.30pm followed by the draw. You must be present to enter the draw.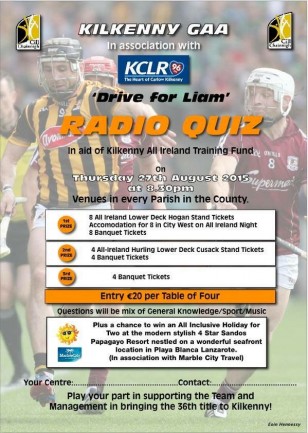 The Drive for Liam Quiz with take place this Thursday night 27th August in The Cave Bar and The Ranchers Return. Throw in at 8.30pm.
St Martins Bord na nOg Field day and Barbeque is on Sunday July 19th starting at 14:00. Promises to be a great day and family event so please support. Keep an eye out for more updates.
Sean O'Regan has stepped down as Senior Hurling manager of St Martins GAA Club which was confirmed at Thursday nights monthly club committee meeting. Sean was particularly unlucky during his time in charge with the number of injuries to players during his time in charge & was wished well in his future endeavours by Club Chairman John Ryan who thanked him for his efforts. The club will now move to appoint a manager over the next few days.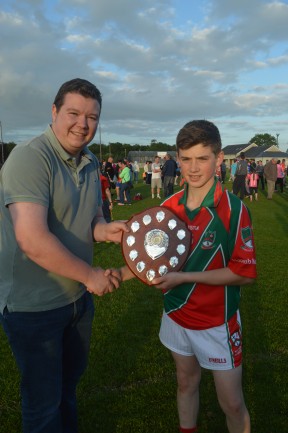 Kilkenny Bord Na nOg PRO Patrick O'Flynn presents The U14 Team Captain with the Duggan Steel U-14 Roinn B League Final Trophy after defeating Clara in the final.
St. Martins U14 panel have qualified to represent Kilkenny at the national Féile Na nGael finals in Ulster this weekend. The team, mentors and supports travel to Antrim and updates on their progress will be available on the facebook link below. This is a fantastic achievement by the boys and mentors and we wish them a safe trip, great hurling and all the very best of luck.
https://www.facebook.com/pages/St-Martins-U14-Kilkenny/1620298608184648?ref=ts&fref=ts
St. Martins Bord na nÓg are holding a table quiz in The Cave Bar on Friday 13th March at 8pm , €100 to the winning table and €50 for 2nd, a raffle also on the night, please come along, all are most welcome.
As preparations begin for the new season the time has come to renew membership for St. Martins / Muckalee members fund. Collectors will be calling to you very soon. New members very welcome from at home or abroad.
If you need any information or would like to join or support this great club please send your request to secretary.stmartins.kilkenny@gaa.ie