U12 Hurlers continue with their busy schedule.
On Thursday evening St Martins U12s welcomed Clara to Muckalee for a challenge game. On a wonderful evening for hurling both sides gave their all and a fast flowing game ensued.
With both defence's on top in the first half scores were at a premium. The game opened up in  the second half and the forward lines started to make some great scoring opportunities. A brilliant goal line clearance form Andrew Buggy mid way through the half kept the Martins goal in tact. Our midfield of Daragh Quinlan and Donal Coughlan again got  through a huge amount of work. The half back line of Darragh Coughlan, Dan Doyle and Jack Murphy really got to grips with their men in the second half. Up front Tommy Butler, James Carrigan and Justin Manning hurled well.
Team from Shane Brennan, Paul Murphy, Adam Agar,Andrew Buggy, Jack Murphy, Darragh Coughlan, Dan Doyle, Daragh Quinlan, Donal Coughlan, Conor Mulhall, Justin Manning, James Carrigan, Tommy Butler, Ronan Shore, and James Dowling.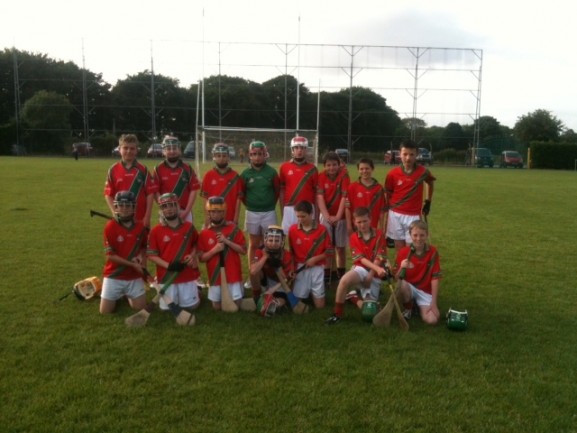 St Martins U11s went to Ballyragget on Friday evening for their annual Phelan Stone and M&A Coaches Hurling Tournament. On a perfect evening for hurling the young saints played St Lactains in their first game and it was keenly contested. With Martins taking control of the middle of the field there was plenty of scoring chances and were mostly taken. In their second game Martins took on Thomastown. In a much tighter game scoring was lower and it was martins sharper touch in front of goal that proved decisive. The last game was against old foes James Stephens the intensity of this game was red hot with neither team giving an inch. As the game went on the exertion of the games started to tell and the intensity fell off. Captain Josh Dempsey received the honours from Ritchie Stone. The players and Mentors were treated to refreshments after the games.
Thanks to all the parents who travelled to all the games over the last few weeks.