St Martin's win U12 Dowling Perpetual Cup
 On a glorious sunny day the inaugural Dowling Perpetual Cup was won by the home side who defeated a gallant Carrickshock side.
The cup was presented to St Martin's Bord na nOg by Tom & Marie Dowling , for an annual U12 tournament.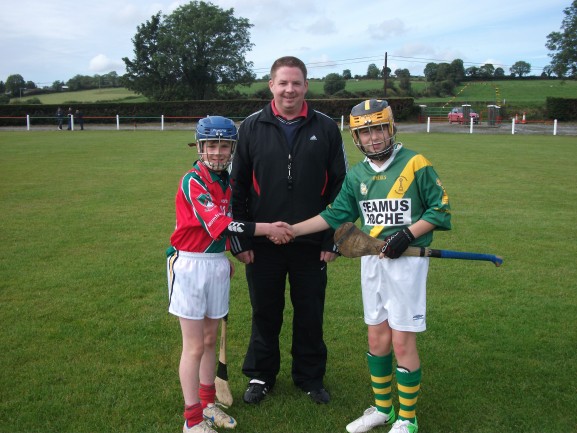 Both sides gave a whole hearted display of hurling in a very evenly contested final. Shane Brennan, came to the rescue of the home side on a number of occasions as he gave another consistent performance in the goal. The backline of Robert Dowling, Liam Brennan, Colm Kealy, Dan Doyle, Adam Agar and Daniel Comerford were very solid and cleared an ocean of ball all through the match.In midfield, Donal Coughlan and Justin Manning were strong and kept the ball moving to the forward line. Those forwards, Oscar Bennet, Harry Kealy, John Murphy, Ronan Shore, Darragh Coughlan and Daragh Quinlan took their scores when the chances came and harried and blocked the opposing backs in a great team effort. During the course of the game, Tommy Butler, Andrew Buggy, Daragh O'Shea, Conor Mulhall, Jack Murphy, Paul Murphy, Marcus Smith, Robyn Smith, James Carrigan, James Dowling and Willem Smith all played their part as the full panel played their hearts out to keep the Dowling Cup at home by the narrowest of margins on a scoreline of 2-6 to 2-5.
Tom Dowling then presented the cup to the winning team and also presented hurling grips to both sets of players.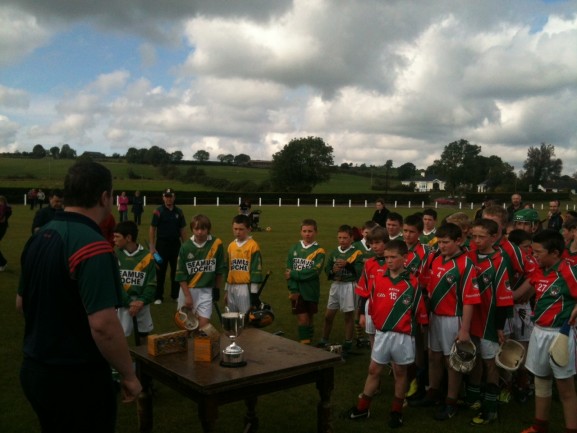 Thanks to John Ryan for refereeing the match.
After the match everyone returned to the hall in Coon where refreshments were enjoyed by players and parents alike.