St. Martin's U10 Retain Fr. Delaney Cup
Under 10s retain the Father Delaney Cup.
St Martins Under 10s retained the Father Delaney cup when they defeated Portlaoise at a wet and windy Coon on Wednesday evening. Ignoring the difficult conditions, both teams battled hard in a close first half, but goals from Ronan Shore and Daragh Quinlan ensured that the home side were ahead at the break. As the match progressed some great defending by Adam Agar, Paul Murphy, Daragh Coughlan and Justin Manning meant that Portlaoise found it difficult to translate their possession into scores. Midfield battles were tough but fair, where Harry Kealy, Donal Coughlan and James Carrigan fought hard for possession. Goals from Daniel Doyle and Conor Mulhall in the second half ensured that St Martins ran out comfortable winners in the end. Although Conor was delighted to score his first goals for St Martins, we can confirm that he didn't burst into song like his older brother DJ John ! Andrew Buggy and James Dowling put in some strong tackles in the forward line, preventing Portlaoise from getting back into the match. When Portlaoise did get some shots on target, second half goalkeeper Shane Brennan made some great saves. Injured team mate Jack Murphy roared encouragement from the sidelines all the way through the match, and but for having to hold himself up on his crutches he would have joined in in the match ! The club would like to thank John Ryan for refereeing the match to great effect which resulted in a good flowing match with no indiscipline from any players.
 After the match Father Delaney presented the Cup to the captain for the day James Daniel. He congratulated all players from both sides for braving the elements and providing great entertainment for all those present. Bord na nOg chairman, Patrick O' Flynn then presented both sets of players with their medals and they all enjoyed some light refreshments.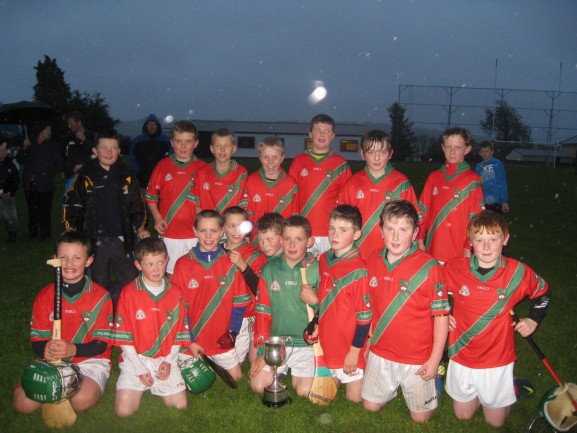 St. Martins team who won Fr. Delaney Cup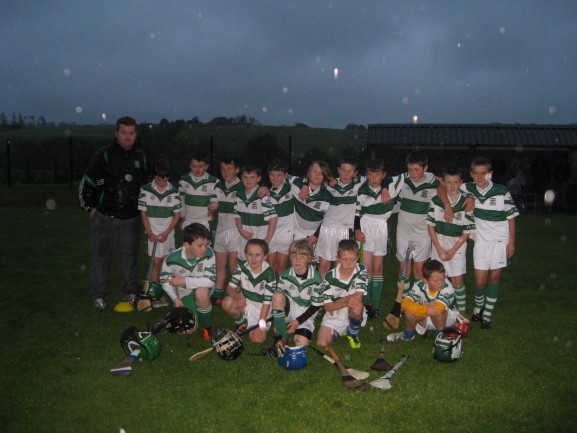 Portaloise u10 panel