Martins fail in Final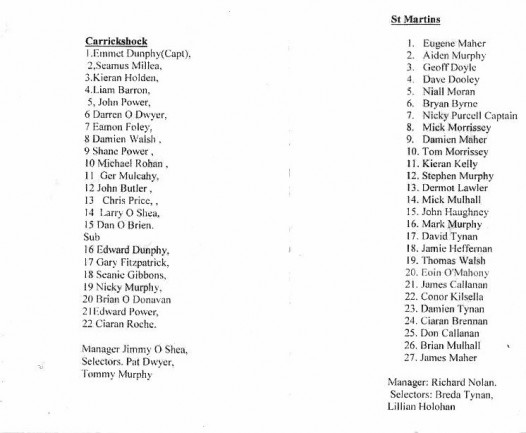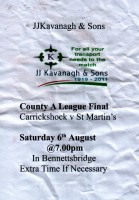 St. Martins lost out to Carrickshock in County Junior A League Final . Martins dominated the first half and held a double score lead coming up to half time.  Carrickshock struck for a goal from a twenty metre free to bring them right back into the game. The injury to Michael Morrissey after just a few minutes was a huge blow to Martins. Half time score 0-10 to 1-5 . Two further goals from the southern side set them up from victory against a Martins side who never stopped trying but could not get through for goals. Full time score 3-10 to 0-13.
Team Eugene Maher, Aidan Murphy , Geoff Doyle, David Dooley, Niall Moran,Brian Byrne, Nicky Purcell Captain, Damien Maher 0-3, Don Callinan, Tom Morrissey 0-2, Stephen Murphy 0-4, David Tynan, Michael Mulhall 0-2, Dermot Lalor 0-2.
Subs Jamie Heffernan (used) John Haughney (used) Tom Walsh (used.)Shane Egan. Also see Programme for others who featured during campaign.
Selectors Richard Nolan , Breda Tynan, Lilian Holohan.
First Aid Robert Shore.
Ref. John Walsh
6 Aug. 2011