Check your scratch cards now!!!
The times for the winning scratch cards are as follows…….. Best of luck to everyone and don't forget you have 7 days to get in contact at 087-9558578
First Goal: 20:22
Last Goal: 47:42
St Martins Hurling and Muckalee Football Clubs(s) Fundraiser
 Due to the demand last year,  we are happy to bring back our Scratch to Match fundraiser this year.  See below for details.  Contact any committee member or player for your change to win €500!!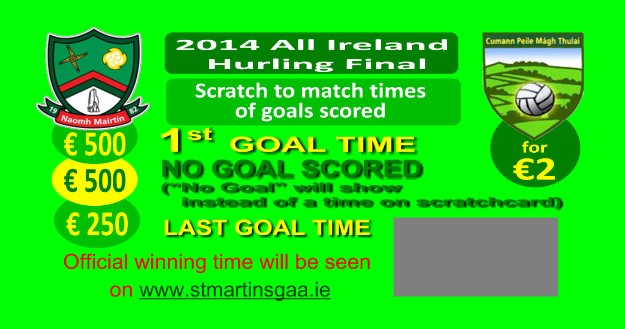 Claims Contact: 087-9558578
Terms and Conditions
·        Scratch to match All Ireland senior hurling first goal and last goal times
·        The winning times will be when the ball crosses the goal line
·        Scratchcards cost is 2 Eur each
·        The first and last goal times will be posted to stmartinsgaa.ie by 22:00 on Monday Sept 8th.  The times will be determined by St Martins Hurling and Muckalee Football clubs and their decision will be final.
·        What happens if no goal is scored in game? one scratchcard sold will have "No Goal" on scratchcard in place of an actual time – the holder of this scratchcard card will win the 500 Eur first prize.
·        What if only one goal scored in game? This will count as the first goal and the holder of this scratchcard time can claim first goal prize of 500 Eur
·        If the first or last goal is scored in injury time in either half the winning time will be the last second of normal time in each half i.e. 35:00 or 70:00
·        There will be a 7 day period from the end of the game for people to contact the claim number and present their winning ticket.