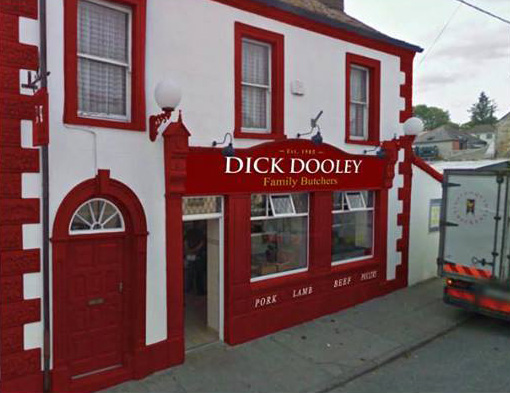 Dick Dooley Family Butchers was first established in Ballyragget in 2004. In 2015 we availed of an opportunity to buy a long established butcher premises that had closed in Castlecomer. Since opening we have broadened our business to include a Homemade, Hot and Cold Deli section as well as developing an Outside Catering arm to the business for all your catering needs. Our business is based around using quality, locally sourced foods to give our customers the freshest product possible, while also introducing international flavours to our value added foods.
Our aim is to continue to supply the North of Kilkenny and surrounding areas with Quality, Local food while providing much needed employment in the community around us. It is a huge honour to be associated with St Martins GAA. As a former player and mentor I understand the huge work put in to the club, for the benefit of all the parish.
Dick Dooley Family Butchers wishes the club continued success, on and off the field.
Dick Dooley Family Butchers
Barrack Street,
Castlecomer
Co. Kilkenny
Tel. 056 440 0822
The Code of Best Practice in Youth Sport has been designed and adopted for the benefit of all who are involved in our games and in other activities promoted at all levels of the Association. The purpose of this Code is to provide realistic and achievable guidance for all units of G.A.A. & Camogie in their work with children and young people. This is a mandatory training or all people involved in youth sport.
Who Should Attend: All mentors of Juvenile Players & Juvenile Committee Members in GAA and Camogie.
To book a place please contact,
Caroline Clifford (GAA) childrenofficer.kilkenny@gaa.ie
& Lillian Holohan (Camogie) childrensofficer.kilkenny@camogie.ie
Upcoming coaching courses.
Foundation Feb 16th 7.30pm in Carrolls Knocktopher. Also in ballyhale GAA at 7.30pm on 2nd March.
Award 1 will start on Monday 7th Feb in Presentation college Loughborough.
Award 2 will start on Feb 18th in Nowlan Park.
If interested in attending any courses please contact Brian Ryan at 087 2492343
Muckalee & St Martins club collectors will be calling to all houses in the parish promoting the buy a brick campaign in aid of new dressing room development at our field in Muckalee. We ask for your continued generosity in buying a Brick @ a cost of €100 for which your name will be prominently displayed on the wall of our new clubhouse.
Larry Maher Chairman Muckalee Football club John Ryan Chairman St Martins Hurling club.
Muckalee & St Martins club collectors will be calling to all houses promoting the buy a brick campaign in aid of new dressing room development at our field in Muckalee. We ask for your continued generosity in buying a Brick @ a cost of €100 for which your name will be prominently displayed on the wall of our new clubhouse
Piltown draw tickets are now available from all committee members. Supporting this draw ensures you are directly supporting all Kilkenny county teams and of course own club and also gives you the opportunity to win cars, holidays and cash prizes ! Your support as always is appreciated.
St Martins 1-11 Dicksboro 0-13
What a way to start the year for the Seniors! The lads showed massive determination from the first whistle and battled right to the 4th minute of injury time to start their championship campaign off with a vital two points.
Playing with a strong breeze in the first half, we put some quick points on the board through John Maher, Tom Breen and John Mulhall. With probably the youngest midfield pairing in the county, Shane Kinsella and Brian Coady hurling a world of ball, we remained on top to lead 0-8 to 0-2 at half time and but for some bad wides in the tricky breezy conditions we could have been further in front.
The chat on the bank at half time was whether or not 6 points would be enough for victory. As things turned out, it wasn't ….. but then it was 😀.
Playing with the wind in the 2nd half, it took a fantastic point blank save from Colin McGrath from Dicksboro's first attack to avoid what would have been a sucker punch start. The 'Boro steadily eroded the deficit and pulled ahead with only minutes to go. The lads showed tremendous determination and fought for every ball and got one last chance when we were awarded a free 50 yards out. Knowing that only a goal would do, Colin floated a perfect ball in to the edge of the square and somehow the ball ended up in the back of the net.
The half back line of Paddy Nolan, Brian Byrne and Mick Morrissey had a great game and with Shane, Brian and Tom Breen working tirelessly around the middle of the field we got our just rewards. It's important that we don't get carried away, but we should also celebrate a great team effort and performance and we can now look forward to Bennettsbridge in a couple of weeks in round 2!
U16A result
Bennettsbridge 6-15 St Martins 7-12
If ever a score line DID tell the true story of a match, this was it! This was a fantastic game of hurling, played by two teams who played passionately for each other and for their club. With star forward Ciaran Brennan in their ranks, The Bridge poised some serious problems for us early on and things looked ominous when Goalkeeper Dan Doyle went off injured in the first minute. However, emergency sub goalie Donal Coughlan had a great game and with Colum and Harry Kealy and Liam Brennan proving a tower of strength and Ronan Shore keeping the points flowing we went in behind only two scores behind 2-8 to 0-8 at half time.
The 2nd half proved to be epic! With Daragh O' Shea and James Dowling storming into the game ( they bagged 5 goals between them ) and Daniel Comerford also goaling we found ourselves 4 points in front with minutes to go. Bennettsbridge wouldn't lie down, and even though we tried hard to keep them out they managed to salvage a draw. Both teams were clapped off the field by all present, who had witnessed a tremendous game of hurling. It may only be their first point in the U16A league for the St Martins panel but it was just reward for their efforts in recent weeks. They have never given up, even when results have not been going their way. Well done all !
St Martins 3-14 Tullaroan 2-11
On a bitterly cold evening, the Juniors of St Martins and Tullaroan ( not Thomastown 😀 ) served up a highly entertaining match in the Junior League. The local lads put in a great effort for the entire sixty minutes and fully deserved their win. A lively start from Donal Shore with an early goal and with Shane Kinsella keeping the scoreboard ticking over from placed balls we went in in front on a score line of 1-8 to 1-7 at half time.
It was nip and tuck for most of the 2nd half with no quarter asked or given. David and Thomas Walsh repelled many Tullaroan attacks as they went in search of an equalising goal during the last ten minutes. St Martins finished strongly with great points from play from Donal Shore, Martin Dowling and Robert Reid, while Jason Shore put the final nail in the Tullaroan coffin with a late goal.
Next up for the juniors is the first round of the league – championship against local rivals Erins Own next Friday evening.
U16A Result Thomastown 6-22 St Martins 3-09 
U16A Result
Thomastown 6-22
St Martins 3-09
St Martins opened brightly in their first match of the year on Wednesday evening and were 5 points up after some good forward play from Jack Murphy and Ronan Shore.
However, Thomastown finished the half strongly and with their full forward line on top they went in at the break 2-9 to 2-4 in front.
We were on the back foot for most of the 2nd half, the physically stronger town team came to the fore. Tommy Butler and Justin Manning put a massive effort in in midfield and Daragh Quinlan and Robert Dowling defended tenaciously but their efforts proved in vain as Thomastown ran out worthy winners.
The team was as follows:
Dan Doyle, Paul Murphy, Colm Kealy, Andrew Buggy, Daragh Quinlan, Liam Brennan, Justin Manning, Tommy Butler, Daniel Comerford, Daragh O'Shea, Robert Dowling, James Carrigan, Ronan Shore, Adam Agar, Jack Murphy. Subs used: Darragh Coughlan, Donal Coughlan, Harry Kealy, Conor Mulhall, Cian McCormack