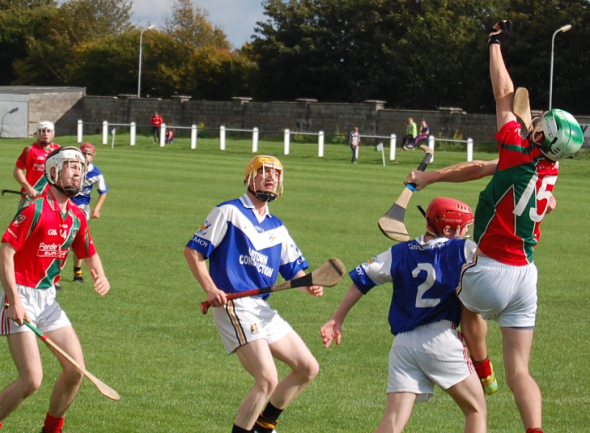 Photography by John Dowling.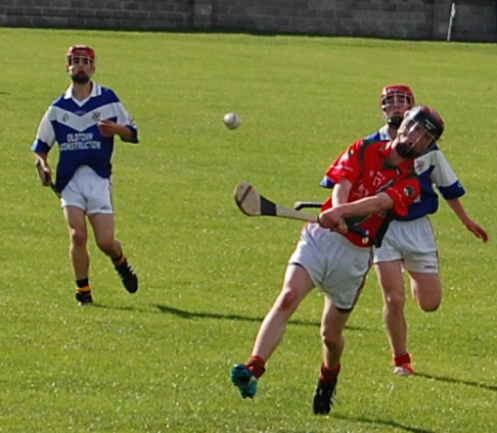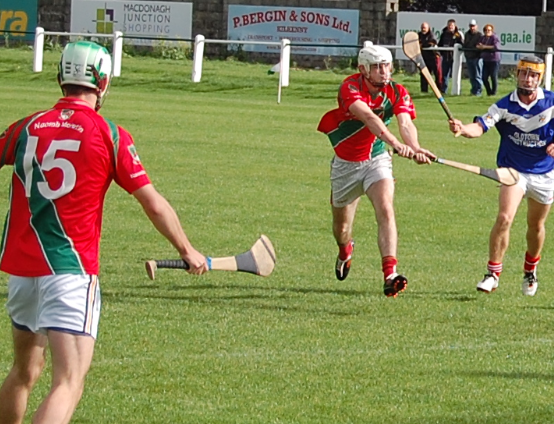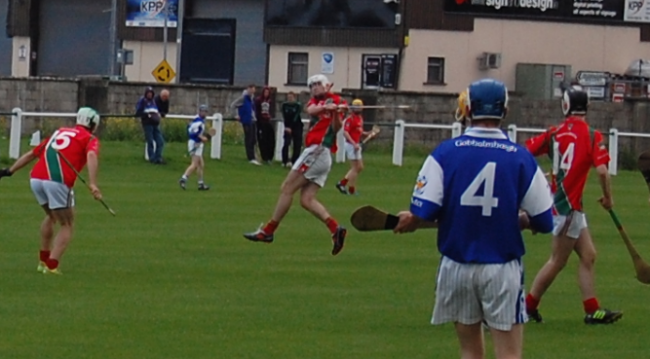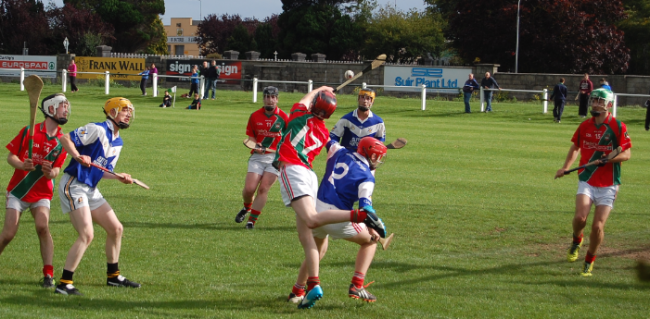 St Martins Under 12 contested the finals of the Jim Comerford tournament in Conahy recently. Earlier round victories over Mullinavat, Conahy and Lisdowney insured a semi-final against great rivals O Loughlins.  After a hard fought and high quality game the City team and eventual winners, emerged victorious.  While disappointed the whole panel gained invaluable experience playing at this level and will no doubt stand to them in the future.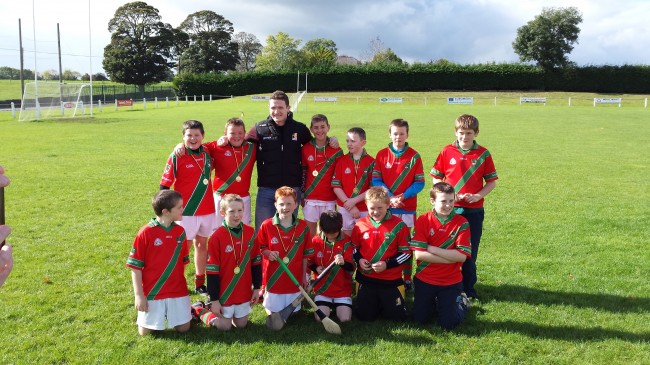 St. Martins Under 12 brought down the curtain on a very busy year with a three game blitz in Danesfort last Saturday. Three games V Dicksboro, Young Irelands and Glenmore provided a large attendance with a great mornings hurling.  All panel members gave their all and an outstanding attitude allied with some great performances insured the year ended on a bright note.  Great credit to the players who provided great entertainment not only last Saturday but throughout the whole year.  Well done lads.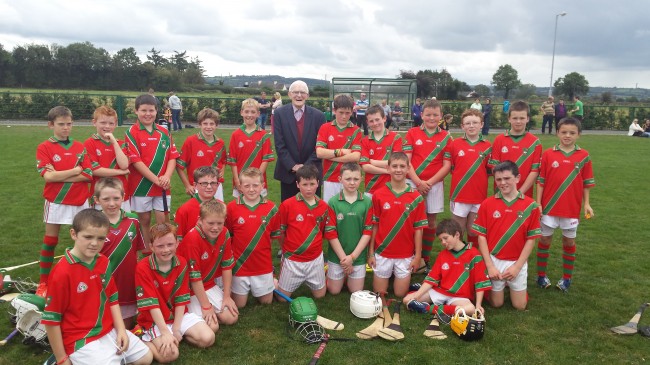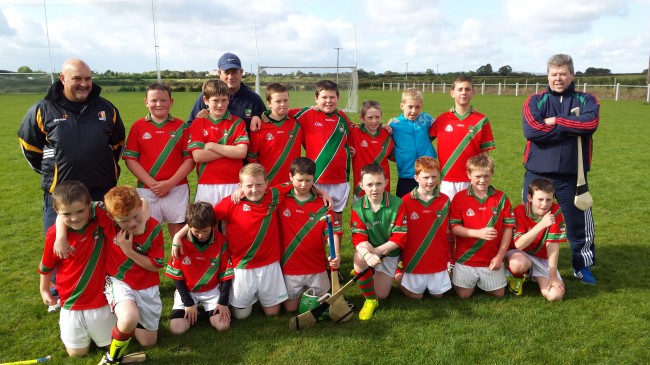 Panel: Matthew Shortall, Shane Fahey, Josh Dempsey, Sean Farrell, Thomas Lawlor, Jack Farrell, Luke Burke, Joseph Reid, Cillian Byran, Shane O Neill, Lorcan Agar, Tristan Roche, Bill Dowling, Patrick Brennan, Russell Kealy, Kyle Walshe, Aaron Meaney, Aidan Kelly, Oisin Kelly, Conor Egan, Rory Buggy, Tommy Flynn and Mick Brennan.
CUPS
Thanks to Sean Kelly for bringing the All-Ireland and Leinster Minor trophies to training in Muckalee last Thursday evening. Great excitement ensued with all the lads getting a chance to see the trophies and get photos taken.
St Martins 1-16      0-8 Galmoy Windgap

St Martins minors qualified for the Minor County Quarter Final with a good win in Johns Park. An early Shane Dowling goal set them on the way and by half time they were 1-7 to 0-5 despite suffering the loss of two players to injury. 
They added a number of points early in the second half to ease to victory where Galmoy Windgap may have had one eye on next weeks u-16 final. They meet Clara in the quarter finals who'll be fancied on the 25th Oct. 
Team: Jason Shore, Conor Dowling, Paddy Heffernan, Loughlin Hogan, Eoin Murphy, David Walsh, Steven Walsh, Brian Cody, John Joe Kelly, Tommy Quirke, Robert Reid, Brandon Sheehan, Mark Cody, Shane Dowling, Finn Dowling.
Subs: Mark Dowling, William Trousdell, Aidan Egan(used), Jack Nolan, Ronan Tynan, Robert Fitzpatrick, Diarmuid Murtagh, Sean Maher, Ciaran Brennan, Colm O'Neill, Richard Teehan.
After playing three games to get through the first round, St. Martin's bowed out of the J.J Kavanagh and Sons Junior Hurling Championship.  Played in typical October weather in the Polo Grounds, Jenkinstown. With the aid of a stiff breeze,  James Stephen's raced ahead and lead by 1-12 to 0-2 at half time with Martin's two points coming from converted free's by Shane Kinsella.  The second half didn't see much of an improvement for St. Martin's.  James Stephen's bagged themselves another goal shortly after half time.  Even though Luke Maher got a goal back for his side, the damage was already done as James Stephen's ran out convincing winners on a scoreline of 2-19 to St. Martin's 1-6.
Team: Jason Shore, Brian Cadigan, Aidan Murphy, Shane Egan, Kieran Kelly, Mick Morrissey, Paddy Dowling, Noel D'arcy, Paddy Brennan, Adrian Farrell, Shane Kinsella (0-4), Luke Maher (1-1), Eugene Maher, Shane Coonan, Donal Shore (0-1).
Subs: Jack Dowling, Joe Maher, David Walsh, Conor Kinsella (all used).
Team Management: Anthony Maher, John Buggy.
Referee: Eugene Ryan
5th October 2014.
St. Martin's and Ballyhale Shamrocks were finally separated after playing a second replay and one point separated the sides after 200+ minutes and it looked like heading to extra time again in the J.J Kavanagh and Sons Junior Hurling Championship.  Played under lights in Muckalee in front of a large crowd, after the first 15 minutes, it was all square with Luke Maher and Paul Maher exchanging scores with Brian Cody and Donnchadh Fitzpatrick of the Ballyhale side.  Shane Kinsella hit the jackpot when a 65  he took from the sideline dropped into the back of the net to give Martin's a three point lead mid way through the half.  He then added a point shortly after to put 4 between the sides.  Brian Cody, Donnchadh Fitzpatrick and Liam Grant reduced the deficit to one for Ballyhale before Paul Maher caught the ball from a free taken by Jason Shore and blasted it to the back of the net once more.  Martin's goalie Jason Shore added a pointed free to leave the half time score St. Martin's 2-4, Ballyhale Shamrock's 0-5.  The second half was a much closer affair once Brian Cody (Ballyhale) clawed back the lead back to 3 points before Donnchadh Fitzpatrick bagged a goal to level the sides. Shane Kinsella pointed a free before Fitzpatrick scored a second goal to take the lead for the South Kilkenny side with  four minutes left on the clock (2-9 to 2-7). Martin's got their opponents lead back to one with a converted free before Mick Morrissey scored a great long range point to level the game, and it looked like extra time again.  With the game in injury time, and neither side wanting to concede, Luke Maher shot from 45m out to score the winner as St. Martin's hung on for the win.  Final Score: St. Martin's 2-10, Ballyhale Shamrock's 2-9.
Team: Jason Shore (0-1), Brian Cadigan, Aidan Murphy, Paddy Dowling, Kieran Kelly, Mick Morrissey (0-1), Paddy Brennan, Noel D'arcy (0-1), Thomas Walsh, Shane Kinsella (1-3), Paul Maher (1-1), Luke Maher (0-3), Eugene Maher, Shane Coonan, Donal Shore.
Subs: Adrian Farrell (used), Joe Maher (used), Jack Dowling, Shane Egan, Conor Kinsella, Tommy Quirke, David Walsh.
Management: Anthony Maher, John Buggy, Eoin Maher.
Referee: Paddy Bowden.
26th September 2015
On a lovely evening in Tom Ryall Park, spectators were treated to a cracker of a game.  Nothing separated St. Martin's and Ballyhale Shamrocks when these sides met last weekend so they had to square up again.  Ballyhale were first off the mark with a point from Brian Cody which was quickly cancelled out by Donal Shore with a point for Martin's.  The Shamrocks side had established a four point lead by the 20th minute.  With Shane Kinsella and Jason Shore converting free's and Donal Shore been unlucky to have his shot at goal deflected out for a 65, Martin's trailed at half time by 6 points.  (Ballyhale Shamrocks 0-12, St. Martin's 0-6).  The second half saw the momentum swing in St. Martin's favour as they came out determined to gain the lead.  As their opponents added another two points to their tally, the Martin's men chipped away to reduce the deficit with points from Shane Kinsella, Paul Maher, Thomas Walsh and goalie Jason Shore converting a long range free.  The equaliser came in the 19th minute when Shane Kinsella landed the ball in around the goal mouth.  As a scramble ensued, Paul Maher finished the ball to the back of the net.  Both sides rushed to gain the upper hand as Shane Kinsella, Noel D'arcy and Adrian Farrell traded points with their counterparts.  Just before the full time whistle, Ballyhale had a chance to take the game when the Martin's goal was left undefended but was blasted wide.  Que extra time.  With a great comeback already under their belts, Martin's had to dig a little deeper in extra time.  They scrapped,  fought hard and showed great team spirit to go two points up at half time of extra time.  Shamrock's came back at Martin's as they scored two points to level the game again.  Once again, the sides traded points before Tommy Quirke pointed for Martin's, certain it was the winner.  However, Ballyhale Shamrock's shot over another point to send the game to a second replay.  Final score: St. Martin's 1-18 Ballyhale Shamrocks 0-21
Team: Jason Shore (0-2), Brian Cadigan, Aidan Murphy, Paddy Dowling, Kieran Kelly, Mick Morrissey, Jack Dowling, Thomas Walsh (0-1), Noel D'arcy (0-1), Shane Kinsella (0-9), Paul Maher (1-1), Luke Maher, Eugene Maher, Shane Coonan, Donal Shore (0-2).
Subs: Adrian Farrell (used)(0-1), Shane Egan (used) Conor Kinsella (used), Tommy Quirke (used)(0-1), David Walsh, James Callinan.
Team Management: Anthony Maher, John Buggy, Eoin Maher.
Referee: Conor Everard.
20th September 2014
St Martins / Muckalee gaa clubs draw for all Ireland Hurling replay tickets for members takes place in Coon Hall on Sunday 21st.  Registration is at 7 o clock followed by draw.  YOU MUST BE PRESENT TO ENTER DRAW. Tickets cost €50 stand  and terrace €25.
Congratulations to St. Martin's Camogie Club on winning the All County Senior Camogie League Final last Saturday in Clara.
St Martins took the long trip to Glenmore for this semi-final. With ideal weather conditions both teams traded early points and a goal before half time left the score St Martins 1-7 to Glenmore 10 points. Second half started in the same fashion with point for point on the scoreboard with never more than 2 points in it at any time. St Martins goaled again to go ahead with ten minutes remaining but three pointed frees gave Glenmore a win on a score of 19pts to 2-11. Well done to all players on a big effort.
Team;  Ciaran Brennan Jason Comerford Ciaran Coady Adam Comerford Matthew Cullen Jack Nolan Ciaran Fitzpatrick Brian Coady Dean Farrell Robert Dowling  Conor Dowling Padraig Buggy Daniel Comerford Patrick Darcy Colm Kealy.
Subs;  Ronan Shore Darragh O Shea Jack Manning(used) Adam Kelly (inj)
Team mentors;  Tom Cullen, Andy Dowling & Micheal Brennan.
The times for the winning scratch cards are as follows…….. Best of luck to everyone and don't forget you have 7 days to get in contact at 087-9558578
First Goal: 20:22
Last Goal: 47:42
St Martins Hurling and Muckalee Football Clubs(s) Fundraiser
 Due to the demand last year,  we are happy to bring back our Scratch to Match fundraiser this year.  See below for details.  Contact any committee member or player for your change to win €500!!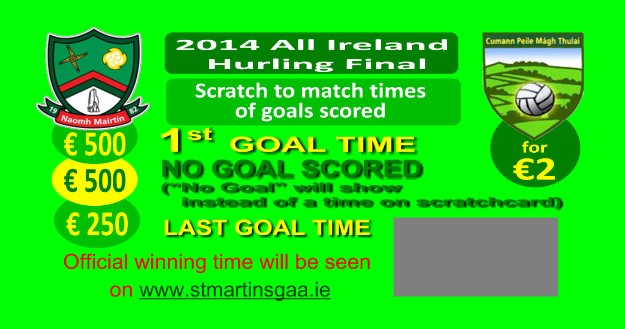 Claims Contact: 087-9558578
Terms and Conditions
·        Scratch to match All Ireland senior hurling first goal and last goal times
·        The winning times will be when the ball crosses the goal line
·        Scratchcards cost is 2 Eur each
·        The first and last goal times will be posted to stmartinsgaa.ie by 22:00 on Monday Sept 8th.  The times will be determined by St Martins Hurling and Muckalee Football clubs and their decision will be final.
·        What happens if no goal is scored in game? one scratchcard sold will have "No Goal" on scratchcard in place of an actual time – the holder of this scratchcard card will win the 500 Eur first prize.
·        What if only one goal scored in game? This will count as the first goal and the holder of this scratchcard time can claim first goal prize of 500 Eur
·        If the first or last goal is scored in injury time in either half the winning time will be the last second of normal time in each half i.e. 35:00 or 70:00
·        There will be a 7 day period from the end of the game for people to contact the claim number and present their winning ticket.