After recieving a walk over in the first round against Callan, we travelled to Danesfort hoping to progress further. The lads created some good chances with good runs being made from midfield and half fordwards to go in at half time 2-3 to 0-4 ahead. Keeping the pressure on in the second half with some fine scores we ran out comfortable winners on a scoreline of St. Martins 6-5 Danesfort 0-7.
Team:
Conor Fahey, Adam Kelly, Brian Coady, Colm O'Neill, Ciarán Brennan, John Joe Kelly, Ciarán Coady, Brandon Sheehan (capt.), Jack Manning, Tommy Quirke, Conor Dowling, Finn Dowling, Sean Maher, Robert Reid, Padráig Buggy.
Subs:
Jack Nolan, Tommy Downey, Adam Comerford (all used)
Mentors:
Andy Dowling, Ger O'Neill, Micheál Brennan
St Martins and Muckalee GAA clubs are holding a 6k Christmas  fun run on Sunday 29th December 2013 at Muckalee GAA pitch and invite everyone to come along and start the new year's get fit resolution early!.  All levels of runners, joggers and walkers are welcome including families and children.  Participants can run as individuals or there will also be a team category specifically for GAA clubs.  Kilkenny hurling star Tommy Walsh will start the race.  There will be prizes and refreshments provided on the day.  Registration begins at 11:45 with the race starting at 12:30.   Any queries please call John on 087-6599195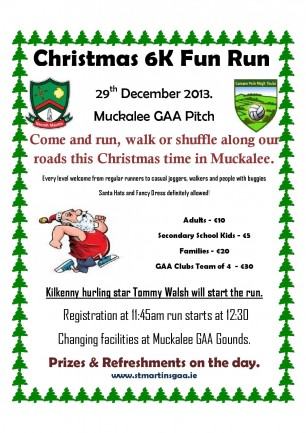 A large crowd attended the St Martin's Bord na n'Og AGM on Friday night held in the Muckalee Community Centre. Chairman Patrick O'Flynn addressed those in attendance & pointed out that despite the lack of silverware there was some tremendous work going on at under age level in the club and that the numbers attending underage training for hurling & football had swelled to in excess of 160 players which boded well for the future. He thanked all those who had helped in anyway during the year. Mr O'Flynn also congratulated Sean Kelly on being a selector with the Leinster winning Kilkenny minor team & wished Liam Dowling well with his role with the Kilkenny U-21's.
The Chairman noted the progress of players to the senior team from this years minors which was a good sign that we are doing our job right as coaches for the future hurlers of the club. The Muckalee footballers were congratulated on winning 4 county titles and he commisserated with the senior hurlers on losing out narrowly to Clara in the championship. The minors & U-16's were particularily unlucky losing out in heartbreaking circumstances in their championship games & the U-16's were again unlucky in the league final. Mr O'Flynn also thanked those who'd put up trophies through out the year & our sponsors, Willie Forde (Eurospar), JS Bolger & Geoff Doyle.
He wished all well for 2014.
Secretary Michael Brennan presented his final report to the meeting which covered all the goings on of all the teams for 2013 in great detail. A few of his highlights were, the Cyril Farrell training evening, the running off of all our own underage tournaments, the huge numbers turning up at training across all age groups & the number of our players representing Kilkenny in 2013 rose markedly which for him was a sign of of the progress the club were making. Mr Brennan felt though that the club wasn't using all it's resources at it's disposal fully from a coaching point of view both internally & externally. As he finished his last report he was greeted with a warm round of applause.
Michael Manning gave his treasurers report which showed the Bord was in good financial health and was again self sufficient during 2013 thanks to all the fundraising throughout the year.
Senior Chairman Richard O'Shea commended the Officers on their work and thanked them for pulling their weight in relation to their own fundraisers and the senior clubs.
Vice Football Chairman Richard Nolan reminded people that it is often the darkest just before the dawn and he felt thanks to the Bord's work that success may not be that far away.
Under AOB it was agreed that a child welfare course in conjunction with Conor Brennan & the senior clubs would be run in 2014 which was proposed by Child Welfare Matty Kealy.
It was agreed to launch a suicide awarness programme which would be led by the senior club.
Officers
Chairman: Patrick O'Flynn Vice: Donnacha Quinaln
Secretary: Tom Cullen Ass: Paddy Kealy
Treasurer: Michael Manning Ass: PJ Shore
PRO: Martin Stapleton Child Welfare: Matty Kealy
School Liaison: Liam Dowling & 1
County Bord Reps: Breda Tynan & Paddy Kealy
Selectors:
Minor: Patrick O'Flynn, Seamus Tynan, Joe Dowling, Martin Stapleton & Martin Dowd
U-16: Andy Dowling, Michael Brennan, Tom Cullen
U-14: Donnacha Quinlan, Niall Clancy, James Kelly, PJ Shore, Martin Dowling.
For the fourth time this year St Martins made the journey to Mullinavat for the minor football quarter final.
St Martins made a blistering start and were 2-5 to 0-2 up after 20 minutes. They eventually made it to half time with a 2-6 to 0-3 advantage but could have being further clear except for taking some poor options in attack.
Mullinavat started the second half scoring 1-2 on the trot but St Martins ended the game as a contest with a flurry of attacks that ended with 2-2 being gained on the score Bord.
Final score St Martins 5-10 2-5 Mullinavat
St Martins: Conor Fahy, Loughlin Hogan, Robert Reid, Alan Kelly, Shane Kinsella, Richard Teehan, David Walsh,  Adrian Farrell (Capt), Brandon Sheehan, Conor Dowling, Patrick Brennan, John Joe Kelly, Mark Dowling, Jason Shore, Shane Dowling.
Subs: Brian Cody, Finn Dowling, Damien Egan, Aidan Egan, Tommy Quirke, Ronan Tynan.
Ref: John Minogue (Thomastown)
St. Martin's Bord Na n-óg AGM will take place on Friday 22nd November @ 8:00pm in Muckalee Community Centre.
St Martins qualified for the minor championship quarter final with a fine win over Clara in Coon.
The locals raced into an early lead and extended it to be up 1-10 to 0-0 at halftime.
A couple of early goals at the start of the second half saw the game over as a contest and they now face next Mullinavat next week who already defeated St Martins in the league.
Final score; St Martins 4-15 2-3 Clara
St Martins: Conor Fahy, Loughlin Hogan, Robert Reid, Alan Kelly, Shane Kinsella, Richard Teehan, David Walsh,  Brandon Sheehan, Adrian Farrell (C), Conor Dowling, Patrick Brennan, John Joe Kelly, Mark Dowling, Jason Shore, Shane Dowling.
Subs: Ronan Tynan, William Trousell, Aaron Healy, Tom Davies, Damien Egan, Aidan Egan, Sean Maher, Tommy Quirke, Tommy Downey.
Colm O'Neill & Eoin Murphy (both injured)
St. Martin's under 21's made the short journey to Jenkinstown, to take on Tullaroan in the Quarter Final of the North U.21 B Hurling Championship.  On a cold day, with a young team which included 10 minors,  Martin's went ahead with scores from Ruairí Kinsella and Shane Kinsella after 10 minutes.(0-4 to 0-3).  However, after that, Martin's found it hard to come by scores as Tullaroan raced into a 12 points to 6 lead at half time.  The deficit could have been more as Jason Shore made a great save mid way through the first half when Bill Cuddihy tried for goal.  The second half saw a more determined St. Martin's side come out fighting.  However, the men in red and green received a setback when Dave Dooley suffered a head injury and had to be taken off.  Shane Kinsella (3), Donal Shore and David Breen whittled the deficit down to three points before Tullaroan hit the jackpot with a pointed free and a goal.  Bryan Byrne closed the scoring account with a point before the full time whistle signalled the end for Tullaroan to win on a scoreline of 1-16 to 0-12.
St. Martin's: J. Shore, S. Egan, T. Walsh, R. Teehan, J. Dowling, B. Byrne (0-1), P. Brennan, L. Maher, S. Kinsella (0-8), A. Farrell, D. Breen (0-1), C. Dowling, D. Shore (0-1), R. Kinsella (0-1), D. Dooley.
Subs: D. Walsh (used), T. Walsh, R. Tynan, D. Egan(used), A. Egan, M. Dowling, A. Kelly.
Team Management: Seamus Tynan, Richard Nolan, Conor Kinsella, Martin Dowling.
Referee: Paddy Bowden.
09th November 2013.
Muckalee made the trip to Pirecestown to take on Saint Fintans the Wexford Intermediate Champions in the Leinster club Championship. On a lovely day for the game it was Muckalee that opened the scoring, three frees in the first quarter and a point from play all from Colin McGrath with the assist from Robert Shore. In the dying moments of the half a good move from defence was delivered by Bryan Byrne to Eoin McGrath who took on his man and set up a scoring chance for Colin who finished expertly. Half time score 1-4 to 0-3. Muckalee were well worth their lead at this stage the defence , midfielders and forwards all combining well. The loss of a Muckalee defender for a second yellow card gave renewed hope to Saint Fintans who began to cut into the lead and two fine saves from John Coonan  kept his sides hopes of victory alive. The last ten minutes when Muckalee added further points from  Colin a free and a point from play after a pass from John Maher and John Mulhall got our last score to give us two point lead but is was Fintans who finished the stronger and run out winners by three points  0-13 to 1-7.  Thanks to our supporters who travelled in such large numbers to support the lads.
Team John Coonan, Canice Maher, Oliver Walsh, Aidan Murphy, Michael Morrissey Patrick Nolan, Martin Dowling, James Maher, Bryan Byrne, Shane Coonan,Robert Shore, John Mulhall 0-1,Colin McGrath 1-6, John Maher, Eoin McGrath.
Subs Joseph Maher (used), Alan Murphy(used),Paul Maher  Capt.(used), Noel Darcy (used) Stephen Murphy, Luke Maher,Eugene Maher, Damien Tynan, Shane Egan, Fionn Lalor.
Selectors Martin Dowd, Larry Maher,Ronan Ruane, Padraig Keegan.
3 November 2013
Collectors will be calling in the coming weeks for membership for the coming year.  The clubs would like to thank everyone for their continued support.
Orders for Club gear for Christmas must be in before November 15th.  Contact Micheal Brennan on 0860503946 to place your order after you browse our club shop!