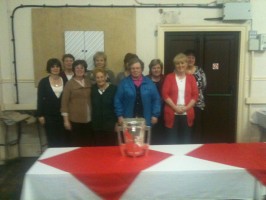 The ladies who looked after the catering for the U14 Presentation Night with the Liam Mc Carthy Cup.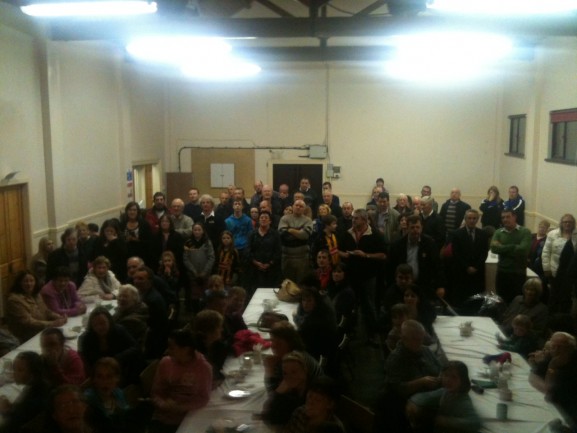 U 14 Presentation Night in Coon hall
A Big thank you to all involved in organising this event.  It was great to see so many people turn out.  The boys were delighted to receive their medals from Brian Cody. Also present on the night was County Board chairman Paul Kinsella, John Mulhall who was part of the Kilkenny team, Fr Wallace and Fr Delaney.
St. Martins lost out the Fenians of Johnstown in the quarter final of the U 21 Championship. Fenians had most of the play in the opening half but a long range free from Brian Byrne was finished to the net by Ruari Kinsella in added time to leave the score 2-10 to 1-7. Martins upped their game in the second half and a goal from Thomas Breen after some good team work left just two points in it with five minutes remaining. That was as close as Martins got and it was the Fenians who advance to the next round. Final score 2-15 to 2-12.
Team David Breen. Cathal Healy. Geoffrey Doyle, Stephen Shore, James Heffernan, Brian Byrne 0-5,Thomas Walsh , Luke Maher 0-1, Thomas Breen 1-0, John Haughney, Ruari Kinsella 1-0, Patrick Lalor, David Dooley 0-1, Canice Maher 0-5, Keith Davitt.
Subs Damien Tynan (used), Sean Meany (used),Shane Egan,Eoin O Mahony, Jack Dowling.Selectors Niall Moloney Tom Agar, Seamus Tynan.
First Aid Dermot Lalor .
Ref. John Direen
20 /11/2011
Hard luck to Muckalee football team who were defeated by Skerries  in Leinster IFC Quarter Final by 1-08 to 0-07 in Castlecomer on Sunday 13th November last. Level at half-time, Harps took control after the break but Muckalee battle on to the end.
St. Martins u21 Hurlers got off to a winning start against a good Dicksboro side. This roinn B game was played in Ballycomey with St.Martins trailing at the break 0-5 to1-3. Wind assisted Martins came more into the game in the second half but the result was in doubt right to the final whistle. Final score 1-8 to 1-7.
Team David Breen, Cathal Healy, Geoffry Doyle, Stephen Shore, Jamie Heffernan, Brian Byrne 0-2, Thomas Walsh, Thomas breen0-1,Ruari Kinsella, Luke Maher0-1,Canice Maher 1-4, David Dooley, Shane Egan, John Haughney, Sean Meaney.
Subs. Patrick Lalor (used), Damien Tynan(used), Keith Davitt(used), Jack Dowling, James Callanan, Anthony McNeill.
Selectors Seamus Tynan , Niall Moloney , Tom Agar.
Ref. Eugene Ryan
St.Martins Bord Na N'Og will hold its Annual Church gate collection on the weekend of November 19th & 20th.
St. Martins Hurling club will hold its  AGM on Friday  December 2nd in Muckalee Comunity Centre at 8pm.  Nomination Papers are available from the Ranchers Return, Cave Bar and at the 3 Churches.  All nomination papers are to be correctly signed and returned to the club secretary before november 22.
Congratulations to Muckalee Senior Footballers on beating St. Andrews of Bagenalstown in the Leinster intermediate Club Championship on Sunday 6th November last with a final score of 1-13 to 1-7.
They prepare to take on Skerries Harps on Sunday 13th next in Castlecomer at 2.30pm.
Muckalee  Senior Footballers take on Kilmoganny in the Senior Football County Final in Ballyragget under lights Wednesday night at 8pm.
Best of luck to all the Lads.
Muckalee Football and Saint Martins Hurling clubs would like to thank all from the Parish who contributed to their recent scrap metal collection. Income came to 18505 Euro which will be used for further devolepment of the pitches in Coon and Muckalee. Special thanks to Martin Stapleton for all his help in enableing the collection.
St Martins fine run in this years Senior Hurling Championship came to an end at Nowlan Park going under to James Stephens.It was the City side who were first off the mark with three points in the first three minutes, the response from Martins was good with points from John Maher ,John Mulhall, and Joe Maher after some wonderful fielding. The first goal of the game came on 19th minute a good ball down the line from Ronan Maher found John Maher whos  shot went in off the Stephens goalkeeper under preasure  from corner forward Robert Shore. Half time score 1-7 to 0-6. John and Joe Maher added points on the resumption and our second goal came on the 39th minute John Maher fielded a high ball and headed for goal and found Robert Shore who finished well to the net to give Martins a seven point lead .Before the cheers had died down Stephens had replied with a goal at the other end , Robert Shore then added another good point but this was to prove Martins last score of the game with  four minutes to go Stephens  took the lead and hit a purple patch to run out winners 3-16 to 2-10. A dejected Martins headed for the dressing rooms after good performance , hopefully they will learn from the experience and move on to better outcomes in the future.