St Martins lost out to Barrow Rangers in an exciting North U21 B Final,Rangers were the best side in the first half and dominated to lead at the break 0-8 to 0-2.Martins came into the game when Dave Dooley got inside the defence and finished well to the net to set up a great fightback which saw the teams level and facing extra time,score 1-9 to 0-12.The game was still level at the end of the first ten minutes,now it was two tired teams giving it their all in pursuit of victory it but Martins lost out by one score .Martins can take great heart from their displays in this years Championship final score 0-17 to 1-13.
Team Colin McGrath 0-2,Cathal Healy,Geoff Doyle,Thomas Walsh,Patrick Dowling,Oliver Walsh,Jamie Heffernan,Noel Darcy0-1,Brian Byrne,Ciaran Brennan 0-1,Thomas Breen Capt.0-2,Dave Dooley1-3,Canice Maher 0-4,Damien Tynan,Ruari Kinsella.
Team  David Breen,Luke Maher(used),John Haughney,Stephen Shore,Keith Davitt,Paddy Lalor,Eoin O Mahony,Paddy Meany,Shane Egan.
Selectors,  Seamus Tynan ,Tom Agar,Dermot Lalor.
First Aid/Physio Grace McCormack
Venue Bennettsbridge
20-11-2010
Club Gear is now available to order for Christmas you can download order form from web site or you can come along to an open night on Nov. 29th in Muckalee Community Centre between 8 &9 o' clock to place your order.  Completed order forms with payment can be returned to Breda Tynan or handed in on the night. Last date for ordering is December 1st.
St. Martins qualified for the North Final after a hard fought victory against a hard trying Tullaroan side.Martins had to line out without the injured Brian Byrne although he did well when introduced.Martins  were ahead at the break 0-6 to 0-4 but a goal from Tullaroan early in the second  half set up a mighty tussle to the finish,some terrific saves from Colin McGrath and with Ollie Walsh leading a great defence Martins were in defiant mood.Up front Martins lost two players to injury Thomas Breen early in the game and Damien Tynan in the second half but the midfielders and forwards led by Canice Maher did enough to edge out Tullaroan and make it  into the Final.
Team Colin McGrath,Cathal Healy,Geoffry Doyle,Thomas Walsh,Patrick Dowling,Oliver Walsh,Jamie Heffernan,Luke Maher 0-1,Noel Darcy,Ciaran Brennan,Thomas Breen,David Dooley,Canice Maher0-8,Damien Tynan,Ruari Kinsella.
Subs. Brian Byrne 0-1,John Haughney(used),Stephen Shore(used),Keith Davitt,Patrick Lalor,Eoin O Mahony, Patrick Meany,Shane Egan.
Selectors Tom Agar,Dermot Lalor,Seamus Tynan.
First Aid/Phyisio.Grace McCormack
Venue Ballyragget 14 November 2010
7/11/10
The Minor's played Railyard in a preliminary rd of this years football Championship.    Railyard opened the scoring with two points before martins got a goal which settled them.  They followed this with another to leave the half time score 2-0 to 0-02.  Railyard got 2 quick goals in the second half to go ahead but Martins continued to battle hard and got 2 more goals to leave the final score St. Martins 4-03  Railyard 2-06.
Team:  James Callanan, Shane Egan, Thomas Walsh, Alan Kelly, Shane Kinsella, Brian Byrne, Eoin Mahony, Tom Davis, Adrian Farrell, Ruairi Kinsella, Luke Maher, Jack Dowling, Aidan Egan, Dave Dooley, Patirck Brennan.
Selectors: Patrick O Flynn, Seamus Tynan, Tom Walsh.
Referee: Podge Butler.
Muckalee Footballers won their Ninth County Senior Football Championship after a thrilling win in a well contested  match against  holders Glenmore.Played under lights in Mooncoin.Result 1-10 to 1-7.Congratulations to John Coonan,Ronan Maher,Alan Murphy,Aidan Murphy,Michael Morrissey,Paddy Nolan, Martin Dowling,Paul Maher,Joe Maher,John Maher,Robert Shore Capt.,Shane Coonan,Eoin McGrath,Colin McGrath,Tom Morrissey,John Mulhall,James Maher,Stephen Murphy,Nicky Purcell,Noel Darcy,Damien Tynan,Canice Maher,Niall Clancy,Thomas Dowling.
Manager Tom Cullen, Larry Maher ,Martin Dowd.05 -11 -2010
St. Martins U21 Hurlers advanced to the next round of the Northern Championship after a good win against Blacks and Whites.Played in Bennettsbridge Martins were always in control to set up a meeting next week against Tullaroan.The half time score was 2-8 to 0-5,full time 4-15.
C McGrath 0-1,C Healy,G Doyle,T Walsh,P Dowling,O Walsh,J Heffernan,N Darcy,B Byrne0-3,C Brennan0-2,T Breen0-2,D Dooley0-1,C Maher2-3,D Tynan2-0,R Kinsella0-2.
Subs. all played a part   L Maher,J Haughney,K Davitt,S Shore,P Meany,E o Mahony0-1,S Egan.
Selectors .D Lalor,S Tynan,T Agar.
First Aid/Physio.g McCormack
Ref.S Brennan
6-11-2010
€400 Mickey Ferrris Crettenclough
€200  Phil Shore The Bungalow Coon
€100  Marie Purcell Coon East
€100 Aidan Grogan Leapstown
€50  Mick Morrissey Clorinka
€50  Seamus Tynan Ballyfoyle
€50  Eoin Doone New Road
€50  Liam Keane Ruthstown
€50  Patrick O Flynn Corbettstown
€50  Shane Cadigan Uskerty
House Prize Sponsored by Ranchers Return:  Tracey Lawlor Coon East
This article was written by Barry for The Kilkenny People on 22-10-2010 ,re published with his consent.
Tom Neville.
How time flies!
It seems like a nano-second since we were talking about the chances of James Stephens stopping the runaway Shamrocks express as it hurtled towards a four-in-a-row Championship.
That they failed gallantly provoked dialogue of varying levels countywide, and further.
But that is what Finals, irrespective of grade, do.
Since the Finalists became known for certain, many have not stopped yapping about it.
Over the years people have given an inordinate amount of time discussing the merits of the great Finals, the Finals that were won, and the ones that should have been won. They have spoken of the great players who played in the Finals, and the great players who never, but should have won medals. And the talk has not been all about players either. Mentors, or Managers have been the focal point of much discussion. You will get some who will tell you that certain Managers were responsible for winning even more than players.
And so on, and so on.
One of the great County Final sagas would certainly have to embrace the story of the very first time in a Senior County Final, that of St. Martins in the Centenary year of the GAA in 1984.
It was an extraordinary achievement in so far that during the previous year, this great club were forced to fight for their lives against the dread of relegation.
But they got it right in '84, and then some.
In one sense, there are strange similarities between St.Martins of '84, and Carrickshock of '10.
There were a few relative firsts pertaining.
We caught up recently with probably the first Manager from outside County Kilkenny to take a team to a County Final.
We speak of course of one of the legends of Wexford hurling, the double All Ireland winner, Tom Neville, a resident of Carlow town. While the name Carrickshock has been inscribed on the plinth of the Kilkenny Senior Trophy many times, such acclaim is more of a nominal distinction, as teams of the times were made up of travelling hurlers from all over the County. This time round, Brendan Fennelly will take the very first authentic Carrickshock team into a County senior Final for the first time in their history.
Tom Neville did the same with St.Martins.
The Carrickshock progress is well documented elsewhere, but it is of the Neville Brigade that we concentrate upon.
"After the relegation battle of the previous season, I was asked to come up to give them a hand. Now I had not a clue as to what kind of reception I might get, you know like, a Wexford man going to train a Kilkenny team. It didn't seem in one sense a real clever move. But nevertheless, I went up to the Ballyfoyle Hall one wet, dreary Wednesday night, and Billy Brett was doing the physical training with this group of men; one bigger than the other. I was looking at all of those big hardy men, quiet men, from whom I couldn't get a word for at least six months" he smiled.
"Were they shy Tom", says I with a wry smile.
"They were very shy country fellows, and it took me a long time to get to know them. They were probably weighing me up too, and wondering what this Wexford lad was doing in Ballyfoyle. Ah no, we got to know each other eventually, but it was a slow process. It was a League/Championship that time, much like today. But we made it to the County Championship semi-final where we beat the Village. That was a great day, because St.Martins had never beaten the Village at senior level before. The Village that time were a formidable team with the likes of Fan, Joe (Hennessy), Mick (Crotty), the Mc Cormacks, Chunky, Brian (Cody) with Georgie in charge. We then went onto the County Final against the all-conquering Shamrocks, the reigning All Ireland Club Champions, and if the Village was a daunting task, the Ballyhale lads were even more so. They had all of the Fennellys, with Maurice Mason, Johnny Walsh, Paudie Holden, the Phelans and the rest. But we came out on top against all of the odds", he beamed.
Feared nobody
To this day, Tom would say that the St.Martins men had no fears.
"Of course they respected the Shamrocks, but they had no fears of them. We gave a lot of time with one on one skills with some of the lads. We also spent a lot of time preaching the philosophy that even though they had a reputation of being tough men, we convinced them that there was no return in unsavoury aggression, or operating outside the accepted perambs of the rules of the game. We coached a concentration on the fast movement of the ball, with a very controlled aggression. The basic principles were worked on incessantly, and I have been down to watch Brian Cody and the Kilkenny lads training, and they are doing nothing that the St.Martins lads didn't do with us. It is a very simple game, and the basics have never changed" he said.
We are talking about a time some 27 years ago, and Professions starting with the letters phy, or psy were foreign to a hurling training arena. But Tom Neville was one of the original of the sporting psychologist, even though he might not have known it at the time.
At that time it was simply, "talking to the lads".
"We had to do a lot of talking", he mused.
Tom spoke with great gusto about the great skills of Johnny Brennan ("a man who should have been on more Kilkenny teams than he was"); about the goalkeeping abilities of Bobby Shore ("but for Skehan, he would have been the regular Kilkenny goalkeeper"); about Jim Moran and his powerful hurling; about John Moran with an engine like a Rolls Royce; about Jimmy Kelly at corner back ("as tough as teak"); about Jack Morrissey "a cultured half back"); about the Mahers (" what a colossus of a man at full back"); about young Pat Lalor in the middle of the field. And so he went on with a word about every one of his panle, his St.Martins family.
Tom would say that the time spent doing ground hurling up under lights paid a rich dividend. Speed, vision, and awareness were components very close to the Tom Neville school of hurling excellence.
Part of his philosophy was to involve the lads, to get them talking, and making decisions collectively and as individuals.
Lights?
When did ye install floodlights?
"We put them up every night", he smirked.
News to me!
He put me out of my misery.
"We trained at night in Mick Sommer's field, where we had lights from all the motor cars ringing the field, with the odd Massey Ferguson thrown in", he laughed. They also togged out in Muckalee School yard, or in cars.
Leinster and All Ireland Titles added
With confidence sky high, the new Kilkenny Champions, swelling with ambition and confidence went gaga.
The Leinster Club Final was added to their County title, beating Buffers Alley in the semi-final, and Offaly Champions, Kinnity in the Final. Loughgiel from the Glens of Antrim were a hard nut to crack in the All Ireland semi, but the Martins men managed to do just that on a dreadfully wet Sunday in Callan (Nowlan Park was closed).
The Final against the Connolly driven Castlegar from Galway was a classic, which took two efforts to decide.
Tom Neville remembers with great regard the St.Martins hurlers that scaled the heights. He befriended every one of them, a friendship that has lasted.
He would be first to admit that he didn't do all of the work.
"Not at all. Their was great workd done there before I arrived", he would say, "and then I had great people around me like Paul Kinsella, Billy Costigan, Billy Brett, Dick Nolan, and Mick Behan, a Dub living in Carlow at the time. We had great indoor training facilities in the Halls in Coon, and Ballyfoyle (twas the way he said it, but somehow or other, the indoor facilities didn't smack as something great to me)", he said.
Tom Neville is still highly regarded in St.Martins country, and sure why shouldn't he be?
Didn't he spearhead one of the greatest periods of their hurling heritage, that others can only dream about.
He won two All Ireland sdenior titles with his beloved Wexford; five Leinster ttiles; National Leagues and more. They would rival the joy and personal ambitions he realised when taking one of the Kilkenny Cinderella clubs to the top of the hurling mountain.
He will be in Nowlan Park on Sunday.
"Wouldn't miss it for the world", he smiled.
Well done to all the U13 players who travelled to Kilcoole on Saturday to compete in their Mini  Feile. They competed in 3 games against Camross, Ratoath Meath and Kilcoole before meeting St. Patrick's from Wexford in the final. They won each game convincingly and were a credit to the Club.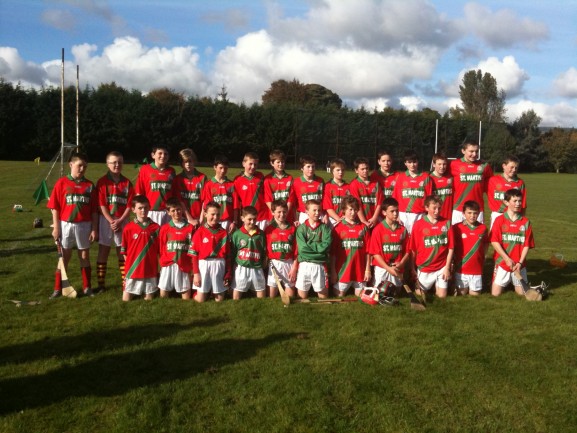 The team are, John Joe Kelly, Robert Reid, Eoin Murphy, Sean Maher, Finn Dowling, Paddy Heffernan, Conor Fahy, Evan Stapleton, Tommy Downey, Tommy Quirke, Colm O'Neill, Seamus O'Keeffe, Conor Dowling, Adam Kelly, Jack Manning, Padraig Buggy, Ciarán Brennan, Jack Nolan, Mathew Cullen, Patrick Darcy, Conor Moloney, Adam Comerford, Ciarán Fahy, Ciarán Fitzpatrick, Richard O'Shea and Dean Farrell.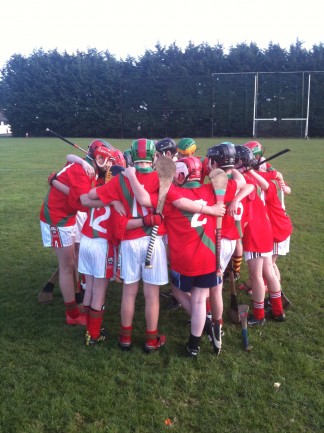 The Lads showed great team work and played brilliant hurling on a sunny day in Wicklow. Everyone put in great effort and the scores on the board proved it.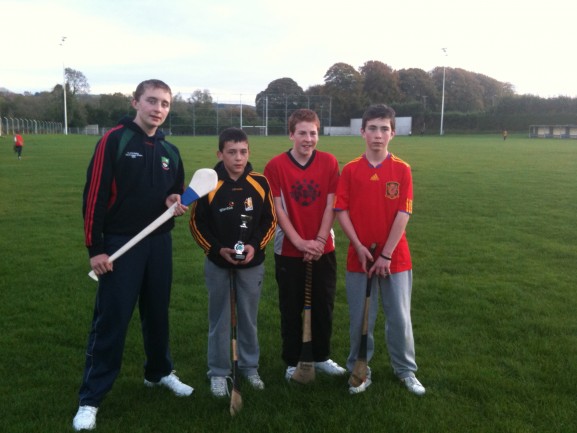 The team were led by 4 captains on the day Robert Reid, Eoin Murphy, John Joe Kelly and Colm O'Neill and John Joe was named payer of the tournament. Great work lads and well done.
St Martins u21 hurlers made a good  start  against Bennettsbridge to win the first round.The game was played in Gowran on a lovely day for hurling.Martins with two goals one  from Ruari Kinsella and one Canice Maher led at the break 2-5 to 0-5 after playing against the wind. The second half was dominated by Martins although the Bennettsbridge side never stopped trying.Final score 2-18 to 0-9.
Team D Breen,C Healy, G Doyle,T Walsh,P Dowling,O Walsh,J Heffernan,N Darcy,B Byrne,C Maher ,T Breen Capt,C Brennan,D Dooley,D Tynan,R Kinsella.
Subs L Maher(used),K Davitt(used),J Haughney(used),P Lalor(used),S Shore(used), E O Mahony.
Selectors Tom Agar,Seamus Tynan,Dermot Lalor.
Physio/First aid G M cCormack.
ReF .S Gibbons.
09-10-2010